June 16, 2006
February 10, 2005
such a super star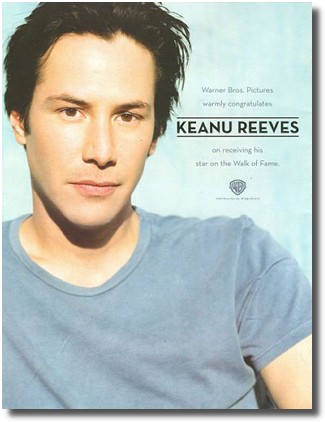 I found this yummy bit of congratulatory gorgeousness over at Nudel's.
Sigh.
Also, she has an adorable ad taken out by Sandy Bullock as well.
Also, if you haven't already seen it, Keanuette has a transcript of Keanu's Walk-of-Fame speech (and a clip to come). Quite charming and moving as well.

| from inside the mind of krix at
12:22 PM
|
comments (10)
January 26, 2005
January 20, 2005
January 06, 2005
December 17, 2004
December 08, 2004
December 07, 2004
October 14, 2004
October 11, 2004
October 05, 2004
October 04, 2004
September 02, 2004
September 01, 2004
August 30, 2004
August 20, 2004
August 12, 2004
July 28, 2004
July 20, 2004
July 19, 2004
July 14, 2004
July 12, 2004
July 01, 2004
June 25, 2004
June 21, 2004
June 16, 2004
June 08, 2004
June 05, 2004
May 22, 2004
May 21, 2004
May 20, 2004
April 20, 2004
April 15, 2004
March 08, 2004
March 05, 2004
February 27, 2004
February 19, 2004
February 06, 2004
February 03, 2004
February 02, 2004
January 26, 2004
January 24, 2004
January 09, 2004
January 08, 2004
January 06, 2004
December 17, 2003
December 16, 2003
November 23, 2003
October 30, 2003
October 27, 2003
October 23, 2003
October 07, 2003
October 03, 2003
September 23, 2003
September 15, 2003
August 28, 2003
August 27, 2003
August 26, 2003
August 18, 2003
August 13, 2003
July 26, 2003
July 18, 2003
July 01, 2003
June 16, 2003
June 14, 2003
May 16, 2003
April 24, 2003
April 22, 2003
April 14, 2003
April 09, 2003
March 06, 2003
February 23, 2003
February 15, 2003
February 13, 2003
February 09, 2003
February 08, 2003
January 21, 2003
January 15, 2003
January 06, 2003
January 02, 2003
December 26, 2002
December 24, 2002
December 23, 2002
December 20, 2002
December 12, 2002
December 10, 2002
December 09, 2002
December 08, 2002
November 21, 2002
November 08, 2002
November 06, 2002
November 02, 2002
October 26, 2002
October 23, 2002
October 15, 2002
October 09, 2002
October 05, 2002
September 12, 2002
September 05, 2002
September 01, 2002
August 31, 2002
August 29, 2002
August 28, 2002
August 26, 2002
August 24, 2002
August 23, 2002
August 22, 2002
August 15, 2002
August 11, 2002
July 27, 2002
July 26, 2002
July 25, 2002
July 13, 2002
July 10, 2002
July 08, 2002
July 05, 2002
June 30, 2002
June 18, 2002
June 03, 2002
May 26, 2002
May 23, 2002
May 20, 2002
May 16, 2002
May 03, 2002
April 13, 2002
February 09, 2002
January 17, 2002
December 13, 2001
December 11, 2001
November 12, 2001