And it didn't hurt a bit
OK, so I don't actually have a DVD player yet, but I'm shopping for one.
I did however, purchase my first DVD.
Who's the man that finally got to me to break my DVD cherry?
Was it Keanu and the new Special Edition of Speed with all those yummy extras? Nope.
Was it Kiefer and the whole first season of 24 complete with alternate endings? Nope.
It was C.C. Chapman, the REwind Movie Awards' Director of the Year. I ordered his award winning short: Inquisition.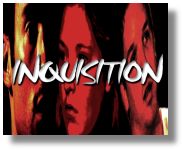 It was directed by C.C. (of course) and written by Garth Franklin, who some of you know from Dark Horizons.

"Blind dates are always tough, especially when you awaken the next morning to find you're the prisoner of a serial killer. Now, Daniel and Jennifer are trapped at the mercy of Travis Krieger - the so-called 'Angel of Death', one of two killers going around committing violent murders throughout the city. Twists abound in this dark tale which will blow your mind."
More on the story, behind the scenes, and ordering this independent gem can be found here.
I'm no longer a DVDVirgin and C.C.'s the man.

tribe | from inside the mind of krix at September 05, 2002 11:55 AM .