Squeal!
Those shrieks of laughter that sound like Betty Rubble is being held down and tickled by the feathers of a hundred ostriches?
That would be me.
Julie, the package came.
Meeces! And a TO. Die. FOR-fold out poster
OMg, squeal!
I can't wait to go home and show Humphrey.
Update: Humphrey approves! Maow!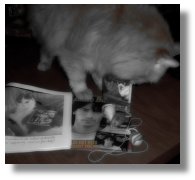 tribe | from inside the mind of krix at February 15, 2003 10:46 AM .