Vegas, baby
Not much going on today so I'm keeping my self occupied with general expectations and giddiness over BlogCon.
Good grief, I'm gonna be hip-deep in freaks tomorrow night...wheeee!
Skits had the brilliant idea of printing up "blog calling cards" for us all to exchange. Here's mine...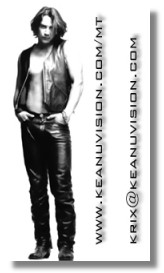 I've decided to dress up a bit for meeting everyone Friday, so look for me all in black except for my own pair of worn, brown Keanu-ish boots. I'll be the one carrying the Corona.
Anyway, I did a google image search on Keanu+Vegas, and came across this article, which is some sort of fictitious diary that was so cleverly written in order to mock Keanu's comments on drugs in the Vanity Fair article last year. So clever, there's no author credited, so I guess I'll just have to inflict discomfort on a random stranger today and let karma sort it all out.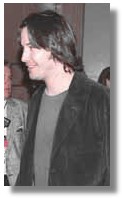 tribe | from inside the mind of krix at August 22, 2002 01:45 PM .