monday memes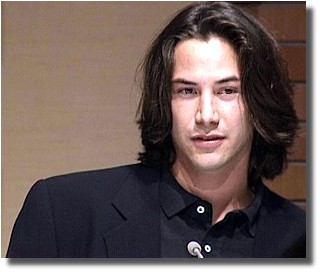 My japanese name is Kawazoe (riverside) Kumiko (eternal beautiful child).


Aww, that's pretty.

Keanu's japanese name is Saruwatari (monkey on a crossing bridge) Kenta (healthy and plump).


Take your real japanese name generator! today!
Created with Rum and Monkey's Name Generator Generator.
-via kat
Why did the monkey cross the bridge? To get to the riverside.
So what happens next? Well, according to the "You and Keanu" quizzy thing over at Club-Keanu...


We'll meet at a concert. (check)
His first thought will be that he didn't notice me too much. (I knew I should have had him sign my boobs!)
Our first date will consist of me tackling him and dragging him into the bedroom. (Oh, come on. I'll totally buy him dinner first)
After he gets to know me he will think "there's the door" (What? I think 'plumpmonkey' is a great pet name! Quit throwing stuff!)
How it will all end up? We'll live happily ever after. (Natch)
And while I'm posting silly quizzy things, via damn near everyone , here are the results of my 20 questions personality test:

You are an SEDF--Sober Emotional Destructive Follower. This makes you an evil genius. You are extremely focused and difficult to distract from your tasks. With luck, you have learned to channel your energies into improving your intellect, rather than destroying the weak and unsuspecting.

Your friends may find you remote and a hard nut to crack. Few of your peers know you very well--even those you have known a long time--because you have expert control of the face you put forth to the world. You prefer to observe, calculate, discern and decide. Your decisions are final, and your desire to be right is impenetrable.

You are not to be messed with. You may explode.
I would never presume to take that test on Keanu's behalf, but I like to think he may be a fellow evil genius.
If not, I have a plan.......bwuhahahaha!

off topic , tribe | from inside the mind of krix at July 12, 2004 01:30 PM .