JozWatch '03 - Mission: Keanu
OK, so there's another chance for good hearted fun with photographic proof today.
The Orlando Jones show also tapes by jozjozjoz. Well, technically it tapes close to her car.
We have no idea what time, though. So we need either:
a) someone to comment that knows what time the show starts taping.
Our operatives report that taping begins at 5 pm.
or
b) a smackload of excuses for why Joz needs to keep going out to her car instead of working. (She's already confessed to accidentally -shyeah, right--leaving her phone in the car)
--now that we know the time, it's pretty much in the hands of the Architect.
I told her she should trust in the plan of the Matrix, and make one trip out to the car today, with the camera and "Hi Krix" sign (which shall also include jozjozjoz.com...it's like sponsorship!) and if he doesn't cross her path it wasn't meant to be. It couldn't have happened any other way.
Of course, she's all "free will blah blah blah, in charge of my own destinycakes", so who knows.
Update:
Oooh! Here's a pic of the lot with something that is either a signpost or some guy doing an impression of Munch's The Scream. It's not Keanu, though.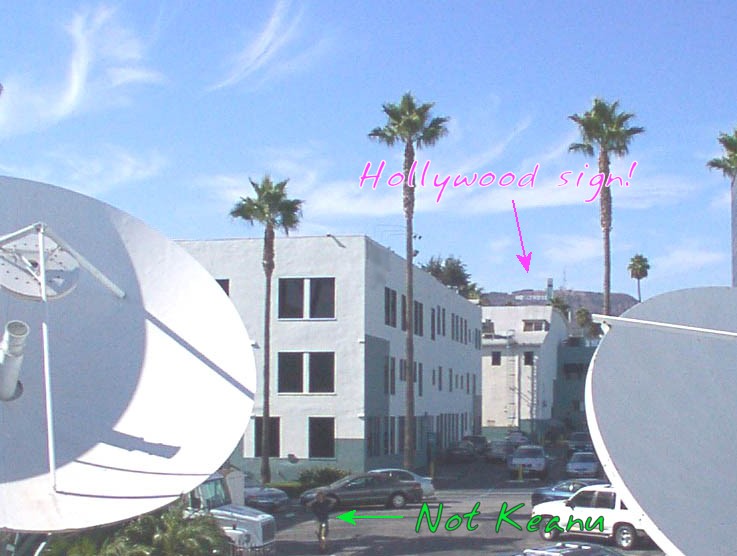 BUT, Keanu just might be in the building under where the Hollywood sign is right now. How very exciting!
Or not.
In any case, I *heart* jozjozjoz for even bothering to try, and for keeping me updated on IM all day. At this point she could send a a pic of Orlando Jones' Security guy holding the sign and I'd be a happy camper.
tribe | from inside the mind of krix at August 28, 2003 10:43 AM .