rock and roll girls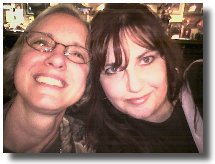 I'm still recovering from having a crazy busy weekend with not one, but two Vibemerchant shows. The best part was that Nudel braved scary cab rides and smoke-filled dive bars to see us! It was so awesome to have her there and we had a great time. She even got to see me nail the solo in Oblivious on Friday night. Of course, she and Wanda (thanks for coming!) also got to see me completely fuck it up on Saturday after the bar owner told us to turn down and harshed the band's whole groove. Bah. We're going to start covering Vanishing instead. I can't take the pressure.
Nudel also got to see my debut singing a little backup on our new song, Knock Me Down . Yeesh, I was nervous. I ordered a double-shot of straight vodka before we hit the stage and set it on my amp for right before that song. I'm not sure if it helped or not, I couldn't really hear. Nothing was thrown at us, so I guess it was OK. I don't really want to sing, but it serves that particular song well.
I was less nervous on Saturday, but that was because NO ONE was in the place. Nudel and Wanda were the crowd and kept us going that night. The whole band thanks both of you for being there, seriously. We made a mistake of not flyering the area or promoting the show aside from on the website. Also, I pushed to go on by 11:30 because I thought that was plenty late, but the place must be a swing-shift watering hole because it was finally filling up at 1am with customers. Live and learn. We play there again on the 13th of Nov.
Anyway, I had a great time with Nudel here and can't wait for her to come back :)
Rawk!
off topic , tribe | from inside the mind of krix at October 11, 2004 03:17 PM .