The Greatest Lounge Band EVER
I'm late to post today because I'm still recovering from last night, which ruled. I got to hang out with Marcie and her love, Alan. We met at Bally's at some tequila bar with really slow service and chatted for a few (which was great because I missed them last time they were in town and really didn't get to spend time together during the chaos that was BlogCon, either).
And we got to experience the greatest lounge act ever.
Chey, Suzie and Mikey know who I'm talkin' 'bout...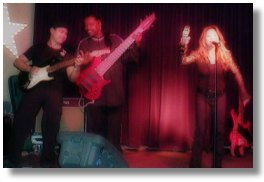 That's right, The Sounds of Joi. Live at the Imperial Palace.
I couldn't believe it when we walked in and they were playing again.
Joi is amazing. Teeny little thing with a great big voice. She can sing like nobody's business and even throws in some moves as well.
And the man behind the Joi, Bass Face. Yes, there are seven strings on that beast, and he works it. Bass Face puts the fun in funky, baby.
There was a new guitar player who was very cute but didn't play with his teeth like his predecessor. He was cute though. Did I mention how cute he was?
So it was quite the Boogie Wonderland and lots of fun. No sign of Chey's favorite dance partner, but we had a reasonable facsimile. Yes, those are roses and beer in his hands. The roses were delivered to Joi during the set and Cassanova there actually started snagging them and handing them out to all of us ladies. Poor Joi.
She finished out the night with a smile, though. And we got our groove on until the end at about 1 am. Stumbled back to Bally's and made plans to get together again soon. Either here or in LA, I'm definitely going to party with Marcie and Alan again soon.
This is the Las Vegas you don't see in commercials, kids.
And it's hella fun.
off topic , tribe | from inside the mind of krix at March 06, 2003 12:53 PM .