The postman? He rang twice today.
Tomorrow may be Keanu's birthday, but the mail brought surprises for moi today.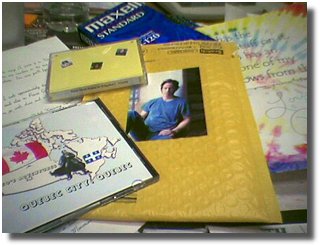 EEEEEEEEE!
Renie sent me a tape with her radio show on one side and all kinds of good stuff from Ridgefest on the other. All sorts of interviews with fans, soundcheck noise and the best part, Keanu leaning into her mic to say "Hellooooo"... So cute. It made me giddy just listening to it and it's the next best thing to being there! Must. Rewind. and Listen. Again!
"Helloooo." EEEEEEEEEEE!
And BIG Smooches to Zen, for sending me a video of The Great Warming, a documentary that Keanu co-hosted PLUS a disc full of memories from Wee Neo's trip to Quebec! I'll be sharing those later in the week.
Thanks you guys, this totally made my day!
tribe | from inside the mind of krix at September 01, 2004 03:32 PM .