Birthday!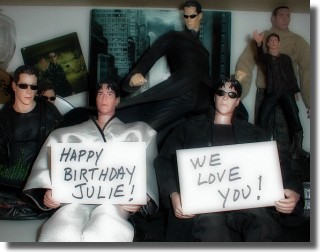 If ever someone was a ray of sunshine on this weird and wonderful world wide web, it's Julie!.
From her overwhelming kindness to her zany hilarilty she's an extraordinary girl(she's really cute as well *wink*) and even though we've never met face to face, I'm so very lucky to call her my good friend.
Happy Birthday Julie!, I hope the day is as special and wonderful as you deserve.
tribe | from inside the mind of krix at May 22, 2004 12:00 AM .