loss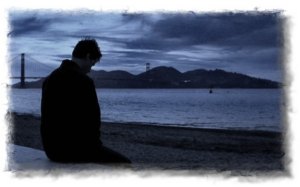 I just found out that Sharon T., a member of a couple of the groups I belong to, has passed on.
I don't know the circumstances.
I didn't know her well, only from her posts and emails, but I just got through crying, and I will probably cry some more. For her and particularly for myself, because I didn't know her as well as I would have liked to. And now she's gone.
It's amazing how people touch your life and don't even realize it. Sharon posted frequently, usually with spunk, sometimes with a counter-opinion...always with brilliance and thoughtfulness.
Here are her words in response to the question "What is a Keanu?" in one of the groups...

"By the way, I actually know the answer to this because it's one of the first things I read on the Internet. A Keanu is a cool breeze over the mountains.

Party on,
Sharon

PS. Ok, ok, ok. Lest you chide me for lack of effort, I will elaborate.

Keanu is a breath of fresh mountain air in the parched desert of conformity. Keanu is a refreshing breeze of hope that enables us to continue bearing our burdens under the hot sun of stress. Like the wind clears the air of pollutants, Keanu clears our minds & reinvigorates our senses. As Cole Porter pointed out, hot weather is not conducive to romance, but Keanu is the evening breeze that stirs our desires with the fragrance of summer blossoms.

Keanu is a natural phenomenon, seemingly a gift from God. As with the elements, he cannot be contained or controlled by the petty & small-minded who contrive to do so. He remains something of a mystery despite diligent attempts to understand him, like the wind that last week defied the careful study of meteorologists & neglected to blow a storm our way as predicted."

Her passing comes as an unpredictable blow to those of us that knew her, even just through her words and appreciation of Keanu. My deepest sympathy goes to those that were closest to her.
She was a hell of a lady.
Goodbye, Sharon.
You will be missed....terribly.

tribe | from inside the mind of krix at December 26, 2002 01:25 PM .