2003? Rawked.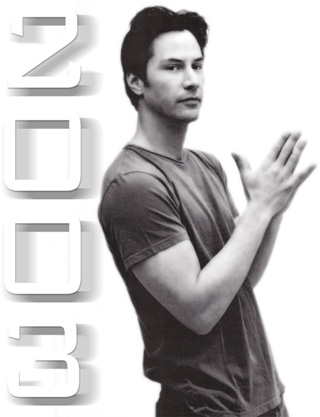 ____________________________________________
In the hype-proclaimed Year of The Matrix, I was happy to Take the Red Pill, but I refused to be spoiled or to be Warner Brothers' bitch.
I was, however, Joel's for the taking. Ultimately, none of my suck-uppery did any good, and the only way I got to the Reloaded Premiere was in my dreams.
You'd think the high point of the year would be seeing Keanu in person and shaking his hand, and while that was definitely not sucky, it's really just one of the outstanding memories I have of 2003.
With the release of Reloaded, traffic jumped, and I stressed out over bandwidth and down time. The solution was an upgrade and I can't express how grateful I am to you all for the success of the virtual garage sale to cover the expense and then some. Some of that surplus went to finally get a scanner which is fun to play with and also enhanced my creative output immensely, and some was spent on something I never thought I'd have the chance to experience...
I got to see Keanu Reeves play hockey. That rawked.
What else?....
2003 saw the end (no pun intended)of Ass Friday, but the beginning of the Keanu Mix project.
And speaking of music, it seems that the light from the Dogstar finally flickered out this year.
But, Keanu thumps on, with becky, and I've been very fortunate to be able to see them live a few times.
2003 was quite the year for Keanu as well, in addition to the new band and the promotion for Reloaded and Revolutions he shot Something's Gotta Give, and Thumbsucker and of course, is currently working on Constantine.
Ah, Constantine.
Thanks to Keanu being in this film I've not only spent over a hundred dollars on freaking comic books, but I've met some intelligent and interesting blokes at the Straight-to-Hell Hellblazer forums. I've also grown increasingly enthusiastic about the film, while growing to love the comic as well. Waffles anyone?
I know that I've missed some things so feel free to point out any egregious omissions or just your favorite memory of 2003 in the comments.
Most of all it's just been a great year of Keanu-luv and friendship.
I don't see how 2004 will be able to improve on this year, but somehow I know it will.
And I'm looking forward to it.
Have I told you all lately that you fucking RAWK? \m/
You do.
So very much.
Happy New Year.
*smooooch*
it wahs , the site | from inside the mind of krix at December 31, 2003 01:01 PM .