Meeting Keanu Reeves changed my life!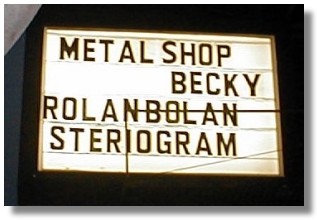 Well, not really.
But it was kind of neat.
At some point in my evolution as a Keanu Reeves fan, I decided that there was no way I was going to be part of a throng of people hovering and vying for his attention, or part of a line of "meet and greeters" shuffling cattle-like past a folding table, either. If I happened to ever be at the right place at the right time- groovy, if not - it wasn't meant to be. I don't go to shows with an expectation of anything other than seeing the band on stage and having fun with my friends. Anything beyond that is just icing on a big loud Stoli-Vanilla flavored cake.
But, like many fans, I have spent at least a few idle moments devoting daydreams thinking about what I might say to Keanu if I ever did get the chance to meet him. Basically, I just didn't want to say anything stupid.
So, on Monday night, after becky was finished playing and I was talking to a girl near the front of the stage I realized that Mr. Reeves would probably be walking down the steps I was near so I decided to wait and see. But there wasn't a lot of people around so then I pretty much assumed that since the other band members came out this side of the stage, that he had slipped out the other side and went out the door on Sunset. I figured he was outside having a cigarette and once again I was at the wrong place at the right time.
Then, he did come out and was being led by a very large security guy down the stairs off the stage and about to go right past me.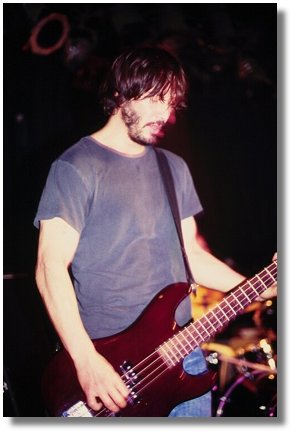 What did I say? What came out of my mouth after mentally rehearsing this moment for the past couple years?
"Hi."
Yep. Brilliant huh? Didn't even say his name.
Then someone on the other side of me gave him something. I don't know if it was a book or what, but let me offer this bit of advice as someone who saw his face as he held whatever this was in his hand....
Don't give him things. It looked like it made him uncomfortable.
Of course, I could see that our Mister Reeves needed to be rescued from this awkward situation so I stepped up and said the magic word "Hi", again.
He looked at me and I offered my hand and he took it and I said the only thing that I could think of that he hadn't already heard a bajillion times, "my name is krix" and shook his hand. It was a pretty average handshake. No electricity surged through me. It wasn't light, it wasn't firm...it just was.
As we shook hands he said, "Hi krix, thanks for coming out."
I said something back to him. I have no idea what.
See, everything was cool until this point, but then it gets blurry.
When Keanu Reeves has hold of your hand, is looking you in the eyes and says your name everything else, including the words coming out of your own mouth, sounds pretty much like white noise.
I'm pretty sure I said something complimentary about the show. I fear I may have used the word "awesome" but really can't remember. All I know is at least I didn't throw the goat and blurt out "You RAWK, Dood!".
Then the moment was over and he was gone.
Which was fine, because I really needed a cigarette.
becky , it wahs | from inside the mind of krix at June 11, 2003 02:40 PM .