A few thoughts, I won't vouch for coherency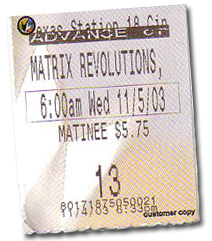 *Spoilers below*

Don't click if you haven't seen Revolutions yet.
This goes for the comments link as well, as it will show the whole entry.

I mean it.
OK, of course the whole thing needs to be watched again. Here's a few things I can remember wanting to comment on:
While sitting in the theater, when the green-tinged Warner Lot/Village Roadshow logo came up, I panicked. For a moment I wanted to flee, because this was it, the story would be over and I wasn't sure if I wanted that.
I was glad that they got right into it, picked up right where Reloaded left off.
"MOBIL" = LIMBO. Got it.
Liked the upside-downedness of the bondage lobby fight, I also liked the "deja-vu" feeling re: the original lobby gunfight. There were a few times in the movie they did this, calling back to the first film. Nice.
"Merv"...Bwahahahaha! I "heart" Trinity.
The battle at the dock was breathtaking. Like I said in the audblog, bless the twisted mind of Geoff Darrow. Fucking Amazing, I can't wait to see it in IMAX.
Liked the way they explained The Oracle's "new look", Gloria Foster left a big cookie sheet to fill and Mary Alice was perfect.
At this moment, my favorite part was when Trinity saw the sun and the blue sky.
Sigh, Trinity.
Neo, heartbroken. Unable to shed tears. Fuck ALL Y'ALL who say he can't act. I lost it. Note to Self: Bring tissues next time.
Hugo was fucking MARVELOUS.
The rain fight was also incredible, loved the various sybolic effects withing the lightening.
Much more....
Really, so much more. But that's all I can wrap my mind around right now.
I can't wait to see it again tonight.
red pill | from inside the mind of krix at November 05, 2003 01:39 PM .