Sucker for Thumbsucker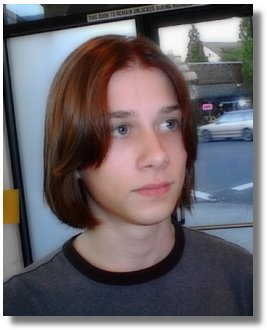 I do hereby declare Lou Taylor Pucci to be the Cutest. Thing. Ever.
And I'm pretty sure he's on the verge of becoming a very big star.
Looking again at the casting for Thumbsucker, Lou has the lead as Justin Cobb, Vincent D'Onofrio will play his father, Tilda Swinton as his mother, Keanu as his unconventional orthodontist of course....and now I see according to Lou's news page that Matthew McConaughey is out as Mr. Geary, the debate coach, and Vince Vaughn is in. Vince freaking Vaughn, hot damn. I luff him.
And speaking of casting, congrats to Chase Offerle, a Beaverton! local who now has the part of Joel, Justin's younger brother. According to this article Chase has two scenes with Keanu. His mother must be so proud.
According to this Portland Tribune article on Lou : Thumbs up to a juicy role, the budget for the film is a mere 3 million dollars, which could mean the script must be very good to be getting the cast it has. I hoped that Keanu would do a film like this after he finished the Matrix movies. Of his three upcoming films, as of right now, I'm looking forward to Thumbsucker the most.
Of course, if I hear that Keanu goes blonde for Constantine(which I seriously doubt, but still secretly hope for), that all goes right out the window.

cinema | from inside the mind of krix at July 05, 2003 10:53 AM .