VIRTUAL GARAGE SALE
The good news is, I have been offered a great hosting package upgrade that will give me three times the space and five times the bandwidth that I have now and costs not much more than what I am currently paying per month. That means I would no longer be stifled and stressed by file sizes and traffic. And no more outages due to the evil exceeded bandwidth.
The bad news is that I have to pay for a year up front and some setup fees so I'm looking at about $180 to do this, which I really can't afford at the moment, at least not if I want to keep a few dollars on hand for emergency trips to California.
So, I've decided to hold a VIRTUAL GARAGE SALE and start selling some stuff on ebay to help pay for this upgrade.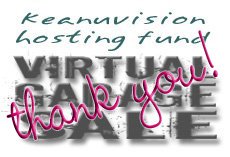 please buy something

I've got a lot of STUFF.
Some of you might want to buy some of it and in turn, help me pay to upgrade the site.
So far I have a few QF cds, some comics and photos, and some special stuff as well.
I have more photos to add, a bunch of Hellblazer comics, and I'm going to root through my stuff and try and get some interesting things up there this week.
Thank you.
the site | from inside the mind of krix at July 16, 2003 01:14 PM .