Hey now, you're an all-star, get your game on...
NHL vs. Hollywood
SCORE's 3rd Annual Celebrity Hockey Game
Sunday, August 17, 2003
So, I was lucky enough to attend the game on Sunday and got to check off "see Keanu play hockey" from my list, where it was nestled between "kiss a kiwi guitarist" (checked) and "learn to make pistachio soufflé" (unchecked).
We got to the Health South Center fairly early, which was good because we got to be in the shade while we stood in line and got to see people arrive. I watched Keanu from afar, but did manage to dork out, hop a rail and scream to becky's guitarist, Paulie Kosta that he should "kick some ass out there today". Of course, at that time I didn't realize that he was the enemy and I should have wished him a leg cramp or something.
We eventually got in and got seated not too far from where becky members Robert and Rebecca were, figuring they would sit closest to the end where Keanu would be goaltending. This was a good call and minutes after we sat down, the players were on the ice doing their warm-up. Keanu did some stretches (sigh) and then positioned himself in front of the net and proceeded to block a good many of the practice shots on him.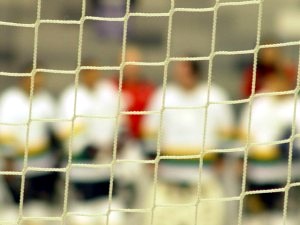 Meanwhile, poor Wendy was freaking out because the fancy laser beam autofocus took a liking to the netting that was stretched between the fans and the ice from rail to ceiling. It was a tense time and I really would have risked a puck in the face for clearer shots at that point.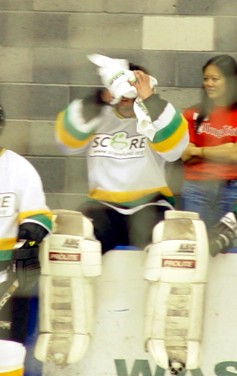 Naturally, once warm-up is over and she figures out how to trick the autofocus, Keanu is mopping off.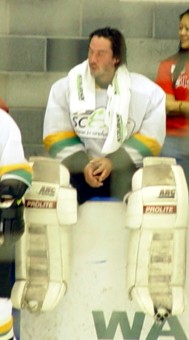 Ahh, that's better.
We then all stood up for a minute of silence and then for a somewhat strange accoustic version of the national anthem sung by Luc Robitaille's wife.
They should have had Rebecca do it.
The teams were announced and I then realized that it wasn't really NHL vs. Hollywood because both teams had a few of each type of player, which was good and made for a more balanced game. It was then I noticed that the green jersey'ed "Visitors" team had Paulie for goalie. Scandalous!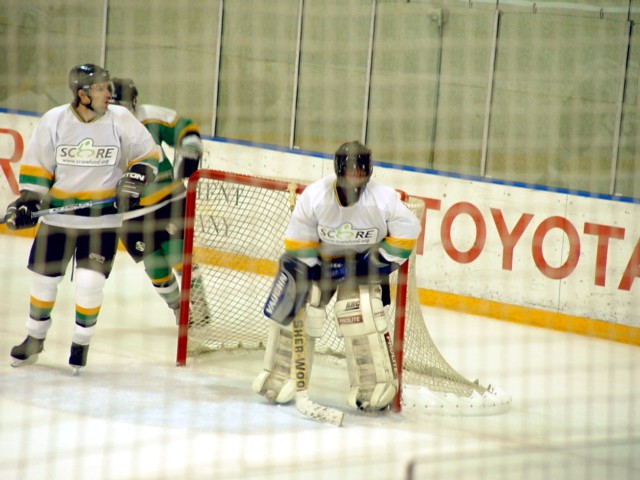 OK, first period?
Keanu. Kicked. Ass.
Nothing got past him.
The puck bounced off his shins, his skates, his chest. He was snatching them out of the air. He denied them entry to the net as though they were midwestern tourists made of black rubber and he was a bouncer at Skybar with a big stick for a velvet rope.
It was glorious.
I was so proud and impressed and my inner thighs were tingling.
The white-jersey'ed Home team scored 2 goals in the first period. I wonder if Keanu razzed Paulie in the locker room.


I should mention that throughout the game, while Keanu stood there in front of the net, he would repeatedly bring up his gloved left hand hand to hit himself in the chest. Wendy thought he may have been moving his chest pad, but I think it was something more. I think he was psyching himself up. He would pound his chest and sometimes shake his head a little and tap his stick to the ice. The effect was not unlike a giant silverback ape posturing and being all Alpha. I could imagine him ggrrrrr-ing and growling behind the mask and pondered him scentmarking the crease before doing a little headshake of my own to snap out of it.
Second period
The teams switched sides on the ice so Keanu was down at the far end and Paulie was close to us.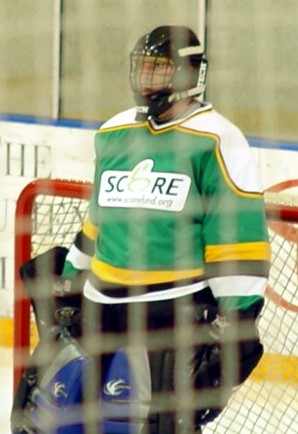 Paulie struck a pretty big and intimidating posture of his own in front of the net.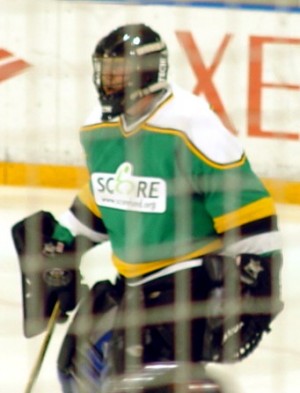 He's also pretty quick with the stick and had no hesitation about throwing himself down to block a point, or even doing some splits.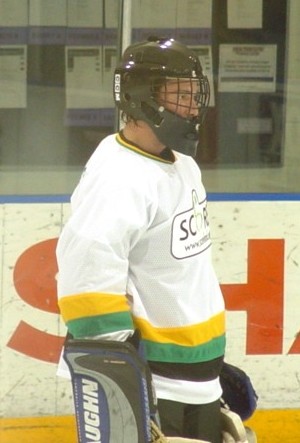 Keanu played really well in the first half of the second period, too.
Then I don't know what happened.
I never saw the first goal scored against him. I heard a commotion and looked down to his end and couldn't see him because he was so far out of the crease. I then saw a goal scored and looked up at the board and there were TWO points registered, so either they popped him one after another or there were some special points awarded on general goalie dumbassery.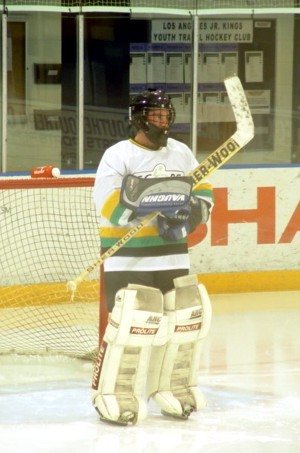 With about eight minutes to go in the second period, the Visitors team cranked it up. Those first two points either made Keanu lose a little focus or revealed a weakness in his game and they ran with it. A lot of action on that end during this period. At one point, Keanu pounced on the puck like a cat to stop a goal.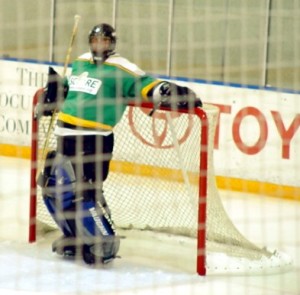 Paulie seemed a little too amused watching the action on the other end of the ice at times. I think the villainous D.B. Sweeney had been influencing him.
A couple more points were scored. Everyone looked a little more tired.
Third Period
I should have taken pictures of the scoreboard throughout the game, because I'm not totally sure what the score was going into the third period. I think the home team was still ahead at 4-2, but I'm not 100% sure.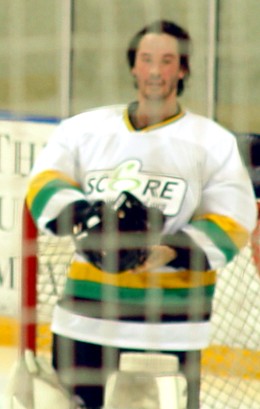 Sigh, I had hoped that at some point Keanu would skate over to where his beckyband mates and their group were (since that was near where we were) so I could have offered (re:shouted) some words of wisdom, "Stay in the crease, creampuff! - Don't let Alan Thicke fool you, he's like 70 years old but he's fast! - D.B. Sweeney is the DEVIL!"....but he didn't skate by.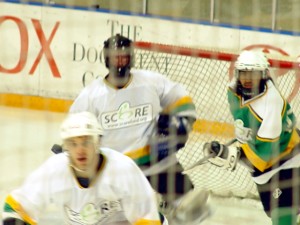 Anyway, this last period was even more action packed. They worked The Wall over pretty good. They had him diving and on his knees to protect the goal.
He's still pretty damn limber, by the way...rwowrrrr.
I wish I had gotten more shots when there was action but I was just so busy watching!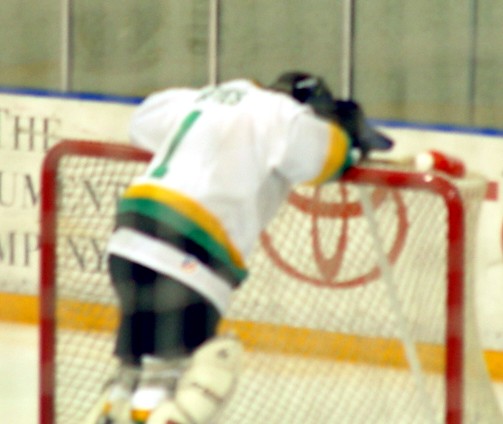 Keanu blocked a lot of shots on goal but let a few in as well. He was typically contrite after the more egregious mistakes.
As the seconds ticked away, both teams played more agressively and roughly.
D.B. Sweeney even knocked Keanu off his feet and into the net! Evil! So yes, I now dub Sweeney to be a "mean baddie" and will be fast-forwarding through all his scenes in Hardball.
I looked at the clock with 3:11 left to go and got a little sad because I knew the game was almost over. The score was tied, and then the Visitors scored again. Keanu was pretty worn out.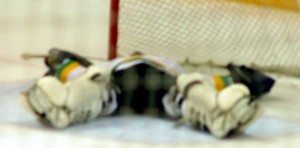 It was up to the offense to turn it around now. I hoped that the Home team would pull it out in the final minute. They pulled Keanu from the net so they could put another man on offense but to no avail.
The good news is, that no points were scored on the empty net.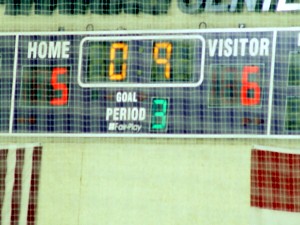 Nothing changed in the last nine seconds of the game and Keanu's team lost, 5 to 6. But it was a fun game to watch and I think it was very good for SCORE, which really was the whole point. (By the way, I believe it was announced in the middle of the first break that Keanu generously donated his jersey to the silent auction which ended between the 2nd and 3rd periods. I have no idea how much it went for, but I bet it reeked - in a good way)
And even this smiley boy knows that winning isn't everything, it's the fun of playing a good game with good friends and players to an enthusiastic crowd.
And these smiles from him were worth the trip and price of admission in themselves.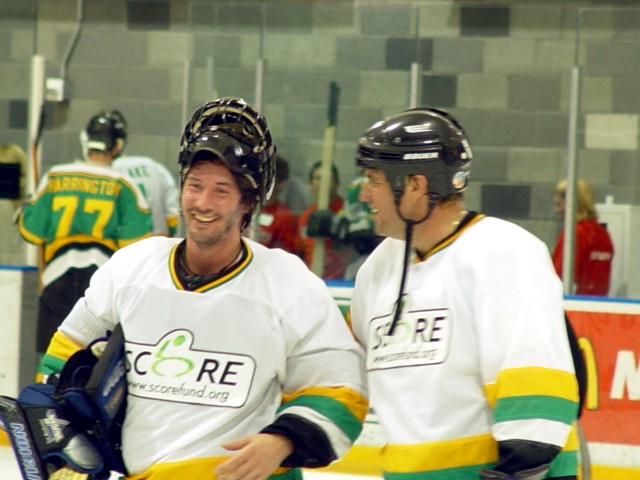 I had the best time.
Thank you to all the players and organizers for a great game.
I plan on being there next year.

becky , it wahs | from inside the mind of krix at August 19, 2003 02:14 PM .