Special Ed: Wherein I refuse to become WB's marketing Department's bitch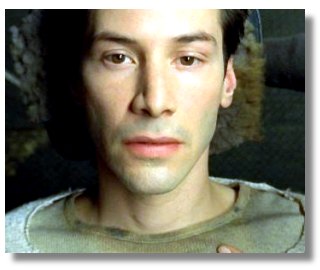 Thanks to Natasha for mentioning it, I guess there is going to be a "Special Edition" Matrix DVD release at the end of April.
Of course there is. Viva la Marketing!
Here's what's in the set (thanks to matrixfans.net)


DISC ONE - ORIGINAL DVD FEATURE FILM

-- Commentary by star Carrie-Anne Moss, visual effects supervisor John Gaeta and editor Zach Staenberg (Not Keanu? Strike one)

-- "Making the Matrix": 26 eye-opening minutes of
behind-the-scenes insight (Wasn't this on MTV?)

-- Music-only track with commentary by composer Don Davis (Music only? what's the point?)

-- "Follow the White Rabbit": Interactive feature jumps from a scene to a featurette on the effects that shaped the scene; nine "White Rabbit" featurettes in all (stuff like this bugs. You have to keep looking for the damn bunny)

-- Take the Red Pill to two hidden special effects documentaries: "What Is the Concept?", a dazzling musical-montage journey from sketch to final effect; and "What Is Bullet Time?", the anatomy of the trailblazing technique (been there, done that)

-- Filmographies (imdb.com)

-- Widescreen presentation (don't get me started)

-- Dolby Digital 5.1 Audio (my TV is old and sucks, this means nothing to me)

-- DVD/ROM features galore: (note! these are only for playing it on your computer)

-- Interactive screenplay - read the script as you view comparative storyboards, stills and clips (this sounds like work to me)

-- "Are You the One?" interactive challenge (if you're not sure? You probaly aren't)

-- Seven special genre essays and articles - "From Strip to Screen" explores comic books on film; martial-arts movie featurette "Everybody Loves Kung-Fu Fighting!"; a sci-fi film retrospective and more (lots of interesting philosophical essays on the website. "Retrospectives" make krix go 'ugh')

-- Link to original theatrical website (um...hello? www.thematrix.com)


DISC TWO - ORIGINAL "MATRIX REVISITED" DVD PLUS NEW BONUS
MATERIALS

-- "Preload: On the Set of Reloaded": Exclusive behind-the-scenes preview of the May 15 theatrical release "The Matrix Reloaded" (I've spent many month trying to avoid being spoiled for this, I'm not going to pay for the privilege)

-- Two mind-blowing episodes from "The Animatrix: The Second Renaissance, Parts 1&2" (will be found here)

-- Marilyn Manson music video - "Rock is Dead" (barf)

-- "What is the game?": teaser for the new "Enter the Matrix" videogame (teasers for games? what's the world coming to?)

-- Thematrix.com: theatrical website preview (preview? wow, I think it's done ready for viewing)

-- "The Matrix Revisited": the complete, behind-the-scenes two-hour companion piece to "The Matrix" phenomenon (seen it)

-- Six behind-the-scenes featurettes on "The Matrix" (Ooooh! featurettes is such a cute word! bah.)

-- The Music Revisited: sample up to three hours worth of audio music tracks of the music from the world of "The Matrix" (I don't have time to listen to the music I already own. Plus I think this is already on Revisited)

-- The Art Revisited: multiple stills galleries with over 800 images (funny thing about movies...they move. Who wants to watch a slideshow? Buy the book.)

-- "The Animatrix" preview (check the website)

-- Theatrical trailers/teasers/TV spots (ditto)
Spiffy.
I doubt I'll be buying it, but go nuts. I'm holding out until 2004, when the big end-all be-all boxed set with all three films, Revisited, Animatrix and Wachowski-freaking-home-movies all packaged in a holographic foil-wrapped scale model of an embryo pod with a sound chip that says "I know kung-fu!" everytime you open it.
I'm sure I'll be buying the Reloaded and Revolutions DVDs when they come out, because the most agonizing time is that span between when the movie leaves the theaters and it's available for home viewing. I spent WAY too much on video copies of The Gift and Hardball because I didn't have a DVD player but wanted to see them. In fact, for what I paid, I pretty much could have gotten a player at the time. I'm dumb that way sometimes.
I guess I'm just not as enamored with DVDs as I should be. I've been disappointed in a lot of "extras". Have you noticed that most of the time, the audio on "deleted scenes" sucks? That was the only reason I bought a DA disc and I was almost pissed.
I've tried watching DVDs with the commentary feature on.....drove me nuts. I don't like that shit in the theater, why should I want someone going on and distracting me in my own home? Shut up already, and let me enjoy the film.
Behind-the-Scenes and "Making of..." is interesting, to a point. But really...Movies are Magic. And when you know how the CGI was done and where to look for the wires and all that, it takes a little of that magic away.
Part of me doesn't want that.
Now I sure hope it doesn't make me any less of a fan, that I resist throwing money at every carrot that this franchise waves in front of me (mix metaphors much, krix?), but good grief, if I did I'd be as orange as an oompa-loompa by now. *OH! free idea, marketing people! These DVDs need FIVE GOLDEN TICKETS to the premiere. Then I'd buy one.*
I will say, if you don't already have Revisited and you don't plan on going to the official site and checking out The Animatrix stuff ("The Second
Renaissance, Parts 1&2" extra? Available on the net soon), and you love sitting there with your forty-leven button remote looking for "easter eggs" and you have an awesome home theater system that will make the music tracks sound like Don Davis is waving his baton from your couch, buy this.
Buy it and I'll come over and watch it with you, I'll even bring the beer.
It's less than thirty bucks and hell, you get a free movie ticket with it.
I'm saving my money for popcorn and raisinettes on the 15th.
red pill | from inside the mind of krix at January 31, 2003 02:14 PM .