why I'm the luckiest girl on the web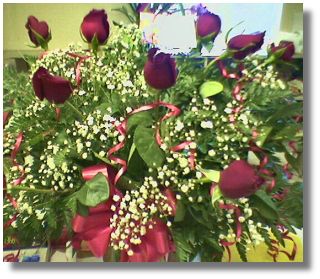 I actually wept before 7 am this morning and it wasn't because the cat woke me from a Kieferdream (which is true) or I was out of coffee (which isn't...thank gawd).
It was because I felt so warm and fuzzy and was feelin' the love.
Keanuette made me this fierce greeting before she left for her trip to this side of the pond, rawrrrrrrr.....and Zen sent me this desktop greeting with just about everything I could want for a present pictured (y'all get the halfsize version).
Nudel blogged a birthday wish and also made soymilk come out of my nose, bwahaha!. There were lovely picture posts for yours truly from Catz and Sta-cie as well, you guys rawk!
-update: Holy Crap! I need to pay better attention, Sta-cie's was WAY more than a picture! It's the GREATEST THING EVER.
Not to mention all the wonderful snugglies from all of you in the comments, including my secret internet boyfriend, James who made me think there was some hot Constantine news going on over at the hellforums, only to find that webmaster John McMahon risks sleeping on the couch for turning the whole forum into a greeting for me and my birthday buddy, Sethos!
Oh! Oh, and along with lovely warm wishes and pictures from my great friends in the various egroups I'm in, JeniLyn sent me Dr. Mercer's "Happy Birthday, Baby".....*swooon* Perfect!
THEN.....Then!
Then, I get to the office and find that a dozen freaking red roses have been delivered.
From Julie!, Nudel and Zen.
At this point I pretty much lost it. I'm still sniffling.
You guys are too much. I'm blown away.
And it's not even noon yet.
I want to say something poignant and perfect about friendship and distance and Keanu bringing such wonderful people into my life, but I think I might just take another big sniff of these flowers and dance around the office some more.
***Some other wishes that were too cool not to share...
From Irene and Daria.
And lookie what skits made! Wowsers!
Thank You!!!
from you | from inside the mind of krix at April 14, 2004 11:27 AM .