Blown Away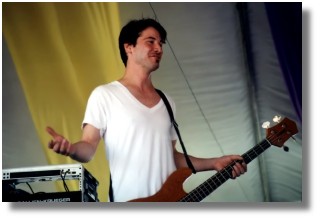 BLOWN AWAY

I miss the way you smell
I miss the time we had
I pushed it to the end
I threw myself down again

I miss the light I miss the day
I'm on the ground I'm blown away
In a world that's gone I need
Another day
Blown away

I miss the way you stayed
I will return there someday
I pushed it to the end
I threw myself down again

I miss the light I miss the day
I'm on the ground I'm blown away
In a world that's gone I need
Another day
Blown away

-Dogstar

I'm still blown away by the birthday love. Rereading the comments and emails, stumbling into the kitchen and seeing the roses on the table....
Have I mentioned Wow...just wow.?
I'm going to hold it all in a very special place. I know I said I wasn't going to have a team of trainers in my 37th year, but I've got the best damn bunch of friends and support network a person could ask for. I pretty much feel like I can do anything.
So let's rock.
becky plays HOB on the Sunset Strip tonight. I hope everyone has a great time and I will see many of you tomorrow (eeeeee!)
Speaking of the Sunset Strip (see how I did that?), a film I think I've been waiting for since I came into online fandom: Mayor of the Sunset Strip- by and about Rodney Bingenheimer, is finally seeing a limited release. Keanu makes a 2 second appearence in the trailer, which you can see here (via keanuweb). It looks like a really interesting film if you love LA rock and roll. Keanuette saw it in London last fall, and has a good write up.
Check the official site and see if it's coming to a theater near you.
it wahs | from inside the mind of krix at April 15, 2004 09:21 AM .