Lost in Spaceland - part 4
[Read part 1 here]
[Read part 2 here]
[Read part 3 here]
Until about halfway through Once's set, I was one of the few people at the edge of the stage. The singer had called to the crowd to come forward rather than sitting at the edges of the dance floor. By the time the set was over, the floor was pretty full and the spaces next to me filled in with other bassplayer fans. I think Rob was the first becky bandmember to come out on stage and work on setting up. I did notice when Keanu's bass case came out. It had a blue "becky" bumpersticker on it. I think I was turned around and futzing with my phone or my camera when someone called my attention to turn around. There was Keanu, setting up his amp.
Something in my chest twitched and I felt a little bit of a rush. Again, I hoped I wasn't succumbing to the predictions of the 7-11 clerk.
There's just something about him being right there. You don't want to take your eyes off of him, but you don't want to gawk either. So you end up taking him in in glances.
He's wearing the boots. He's scruffy. He's moving his stack forward, grabbing it by one corner and tugging, and then moving to the other. It's the sexiest thing I've ever seen and I may die. Right here. Right now. Watching him shove his amp around onstage.
Keanu put his set list on stage toward the front. As others have reported he did indeed say something to the effect of don't take this, looking at us like the bad little girls that we are. Not that we would...at least not before the show. They're nice to have when writing a report like this though, so I took a picture of it , for journalistic purposes.

Songs played by becky, March 20, 2004
Spaceland Gig

Vanishing
Sally
Higher Ground
Evangeline
Sr. Prom
Disco
Shut it Off
Broken Track
Miles
Stv
Grace
Interloper
Make Some Room
Oblivious
Debaser
There.
Then he continued to set up, tune up.
God, that burgundy Ransom is gorgeous.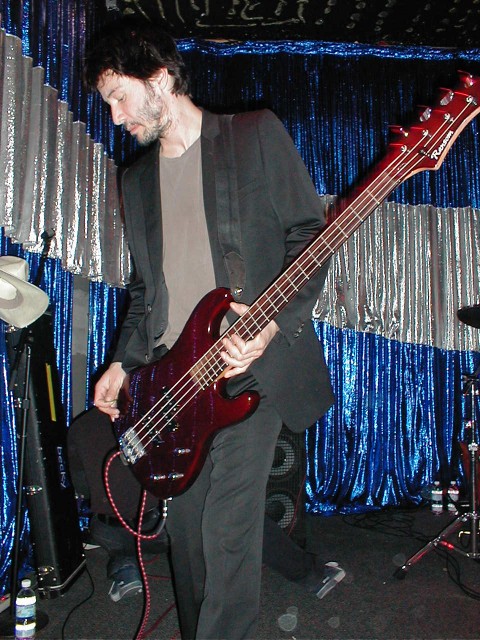 I can't remember exactly when Keanu doffed the Panama hat but as peculiar as it is, I have to say I didn't really mind it. Added a little character and also an interesting contrast to Paulie's dapper suit and matching mohawk. Of course, the man can pretty much wear anything and make it work for him.
Finally, the whole band hit the stage and launched into Vanishing.
Rebecca started out the night in a long black jacket, which came off pretty quickly. Then a couple songs into the set (I think, my timeline may be skewed), she suprised everyone by removing the black top she had on and did the rest of the show in a sheer white lacey top over a fancy bra. Not revealing at all, but very cute and sexy. Rob's a lucky man.
I think I spent about half of Evangeline cursing the fates and trying to make my camera take pictures with no power, and then deleting some of the pictures on my phone to make room to try and get some better shots. Eventually I just gave up and decided to pay attention to what was going on in front of me than worrying about it.
As you can tell from the set list, most of the songs are new, or at least ones that can only be heard at the shows as opposed to ones available at the beckyband site. So it was kind of hard for me to follow which song was what once we got to the middle of the set. There were certainly none that were bad, and there were a couple that really stood out as great, including one that Keanu mouthed the words along with.
Of course watching Keanu play that close up is amazing. His hands are so fast. He played both with a pick and without, mostly with. He stomped and jumped around. He has so much energy and so much fun, he's just mesmerizing. He played "at" me once or twice which was as good as a wave or a wink to me.
I should probably apologize to everyone behind me because I am tall, and I know that I'm not the easiest person to see around. I promise I won't plant myself at his feet at every show I make it to. I just really wanted to watch him play closely this time. This show really was like one extended bass solo in my mind in some ways. I hoped I would learn something and I did. It wasn't a song though, he's too fast to follow for that, especially when most of the songs are unfamiliar. But I did learn something about playing what you love, the way you want to do it. And that's something I hope to carry into my own playing as I go along.
I knew the night was nearly over when they started Oblivious (which along with Higher Ground is one of my favorite songs. They both sounded great live).
I half expected for the band to come out for one more song when they left the stage after the last song but that was it. Once that fact was clear, people started thinning out. I talked and said goodbye to some people and listened to my ears ring. Eventually, across the bar the band members could be seen in the crowd. The Panama hat was like a beacon and Keanu was pretty much surrounded for a while. When I saw Rebecca out in the crowd, I decided to go over to her. Roi had asked for an autograph so I dug out the only paper I could find, a dollar bill, and asked her to sign it for him. We talked for a minute and Rebecca is very sweet, and very smart. When we were done, I told her that I'd see them in Vegas and went to walk away and she grabbed me and hugged me and kissed me on the cheek. It was so cute and so now I have a little het-girlcrush on her.
And lastly, once the crowd had thinned out and Keanu no longer had someone draped around his neck having a picture taken I decided to see if I could have a moment of his time. I did, and all I will say is what most of you already know.
He's a really great guy.
And that was it. I said more goodbyes, thanked Lomara for meeting me and planned on doing it again sometime. Then I went outside so my phone would work and I uploaded the buzznet pictures.
I walked on air to the car and wondered if I would find my way back to Santa Monica.
I took the 101 to the 110 to the 10.
I went to sleep with my ears ringing, and my heart solidly thumping and my fingers playing along with the beat.
becky | from inside the mind of krix at March 22, 2004 10:22 PM .