more showest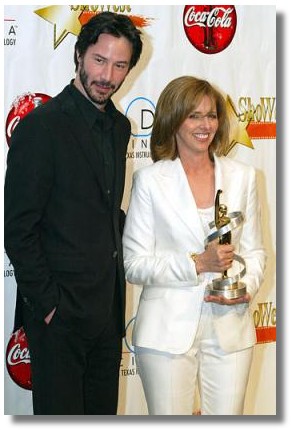 Apparently, I'm such a slacker that I need a heads-up from Australia for a blurb in my local paper (thanks kaz!).

Reeves came to ShoWest to give the director of the year award to Nancy Myers, who directed him in the box office hit "Something's Gotta Give."

The couple showed mutual admiration.

"She writes real personal work. What is that? The Nancy Myers je ne sais quoi?" Reeves said laughing. "She's someone who has real insight into what she wants to see. She won't move on until she gets 'it.' "

Myers, whose projects include "Baby Boom" and "What Women Want," said "Give" has been her favorite movie experience, adding co-stars Jack Nicholson and Diane Keaton "loved working with Keanu. He's fantastic. He's perfect."
Someday I'd like Keanu to use a french phrase when referring to me. You know, "Joi de vive", "Menage à trois", "Pouvez-vous repasser ce linge?"
And if you missed the coverage on ET due to frikkin' basketball, you can catch the clip here, thanks to Keanu Soul via Club-Keanu.
And speaking of the Club, as always Chicks is on it with screen shots and press photos of the whole ShoWest shebang so check it out.
media spot | from inside the mind of krix at March 27, 2004 09:39 AM .