in no particular order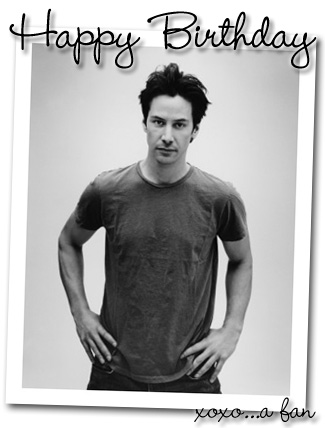 So, Keanu....did you feel any different when you woke up this morning?
Not really, huh?
I'll bet that being forty isn't so bad and that being Keanu Reeves at forty?...is actually pretty fucking awesome.
I hope you're having a great day surrounded by those who mean the most to you, and I hope that you know that the whole world is full of people that adore you more than you can imagine. Be sure to thank your mum for us, ok?


Here are Forty Reasons Why I Love You...




The belly scar

The indescribable vibe you radiate that fills any space you're in and touches everyone in it

The bass lines in "One Thing" and "Denial"

Your dedication to your work

Your laugh

"Whoa"

Your eyes, they're better than chocolate

Your humble generosity

Your commitment to your shoes

Your outside is lovely, but inside you're even more beautiful

The way you look in a tux

The way you look in jeans and a t-shirt

Sometimes, you sing along

"Questioning absolutely everything has always been a part of my nature."

You turned me on to Archers of Loaf

Your lip scar

The way you faint in Feeling Minnesota

You're genuinely funny

Your mysteriousness

Your openess

Your integrity

You're a damned good goalie....(in the first period)

The way you stomp when you play bass

The fact that combing your hair is "optional"

You're deliciously tall

...and you have a great ass

The way you wag your head when you're lost in the music

"It's a little owl. And its eyes wiggle!"

"...if you can make a woman laugh, you are seeing the most beautiful thing on God's earth"

Your pigeon-toed-ness

The incredible velvet wrecking-ball that is your voice

You're an amazing storyteller

You're so damned nice...

...yet sometimes you're fierce

"Yeah"

Your goofball smile

spoony | from inside the mind of krix at September 02, 2004 12:00 AM .