On a Wing and a Prayer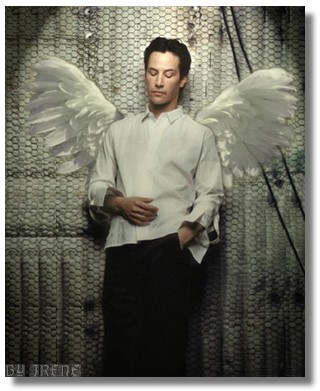 First off, thank you to Irene for this beautiful image.
He's the perfect angel to watch over me as I fly the friendly skies tonight.
I'm sure I'll be fine.....or drunk......whichever.
Seriously, thank you so much to everyone for your wishes and pep talks.
I really feel lucky to know such kindness.
I've so much to be thankful for this year, everything and more than last year even.
Of course, I'm thankful for my health and my family and friends. I'm thankful for the orange kitty that sleeps at my feet and the calico one that sleeps on my head. I'm thankful for the Station Wagon because it gets me to see friends, rock out and have fun in the coolest way...with a kickass sound system.
I also can't say enough how thankful I am that this site continues to attract the most wonderfully kind, intelligent, talented and respectful people.
I'm thankful that I've quit smoking, and started playing guitar again.
I'm thankful for Keanu's bass and his belly scar and for his dedication and talent and character....
And for the inspiration he gives me to create, to push my own limits and to try and be the best I can be, every day.
I'm thankful and so very proud to be a fan.
I wish him and all of you an abundance of things to be thankful for in the coming year.
it wahs | from inside the mind of krix at November 25, 2003 03:03 PM .