A few things I'm thankful for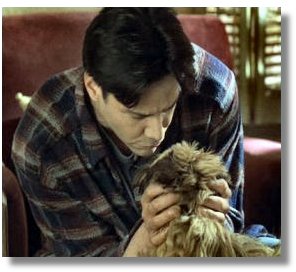 It's been such an amazing few days that I couldn't list all of the things I am thankful for.
And....I'm pretty thankful for that.
But here are a few things that come to mind.
-My health, and that of my family, friends and pets and the love of the same.
-That I have a roof over my head, 2500 evening and weekend minutes of free long distance, a gas card and that I can smoke AND surf the net on my job.
-Keanu Reeves.
-Everyone I have met and connected with through Keanu fandom and through blogging.
-Everyone that visits this site, and the wonderful comments and emails I get that help keep me going.
-Bret Domrose and Rob Mailhouse.
-The Wachowski Brothers.
-That I continue to find inspiration, sometimes in unlikely places.
-Kiefer. And the cast and crew of 24
-Coffee.
-All of my ex-boyfriends, because I learned something from each of them, even if it was just that the visiting booths in jail really do have glass and telephones, just like in the movies.
-That none of the stupid situations I've allowed myself to get into have killed me yet and that I've started seeing which situations were stupid and stopped getting into them.
-That through luck, karma, blessing...whatever you want to call it...I have pretty much everything I need and some things I merely want, and I'm happy.
-And at this very moment, I'm getting ready to go out with one of the most important people in the world to me, my best friend (since kindergarten!) Eric.
it wahs , off topic | from inside the mind of krix at November 27, 2002 07:52 PM .