I'm not a weirdo, I'm a Keanu fan!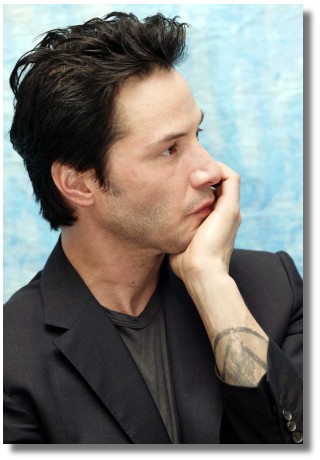 KEANU: NOTHING MY FANS DO IS STRANGE
The Matrix superstar Keanu Reeves has been in the movie business so long, he doesn't find obsessive behaviour by his fans shocking anymore.

The hunky actor - who shot to fame in comedy caper Bill and Ted's Excellent Adventure - is aware that big event films like The Matrix and its two sequels can turn into a way of life for some devotees, and finds their fascination amusing.

He says, "People do Matrix costume parties and get Matrix tattoos and that sort of thing.

"But there was a breakfast cereal called Bill and Ted's Excellent Cereal named after that movie, so nothing seems that strange anymore."
First off, a Matrix dress-up party sounds really cool.
Why, yes. I have DOGSTAR license plates, and a Keanu film t-shirt collection (which I really need to do an updated inventory of), and yeah there's this little website thing but can you really call that obsessive?
Nahhhh....
It's quirky! It's a healthy interest, it's sexier than beanie babies or NASCAR.
And frankly, eddieshirt is so comfy I would sleep with him anyway.
Everyone needs a hobby. Keanu fandom is mine and it's been good to me. I've met the greatest people and had the best time supporting him and his career and interests. Being a Keanu fan changed my life. You can just read this site and see the friendships and recount the events that testify to that.
I sometimes get a little peevy when people who don't understand a fandom throw around words like "obsessed" or my least favorite, "rabid". So what if my idea of a perfect trip is to go see his band play and not to some football game or to climb some rock? Yeah, I'm a grown woman and have a Neo doll on my dashboard.
Bite me.
Keanu's cool with it and so am I.
it wahs | from inside the mind of krix at November 21, 2003 12:44 PM .