he's huge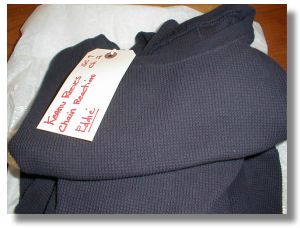 Really huge.
The shirt is, too.
It's deep dark blue and smells of cedar.
It has an amazing texture. Heavy.
Huge.
It came with the wardrobe tag that you can see in the pic, a certificate of authenticity and some instructions telling me not to wash it, store it as a collectable....yadda yadda.....whatever.
Now I've got to go jump in the shower so I can put it on.
Next time you hear from me, I'll be blogging naked, except for the shirt.
Mmmmmm.....Eddie.

Update 8 pm
It was like getting ready for a date, taking a shower to put this shirt on.
I exfoliated like I'd been exposed to plutonium. I wanted that "raw" feeling to my skin. I rinsed and rinsed so I wouldn't have a soapy smell sticking to me, so I wouldn't adulterate the shirt. I shaved. I didn't moisturize....
It's a nice shirt. Nicer than your average thermal.
I didn't expect anything when I put it on. I knew I wouldn't combust or have a religious experience. I gave it a few more deep inhales before I slipped it over my head. Dry cleaning chemicals, no doubt.
Nice though. Not like anything I'm used to smelling so I'll associate it with him from now on.
I slipped it on and hugged myself.
And no, nothing magic happened....really. But I did smile.
I ran my hands all over myself, making sure I pressed the belly scar area a little extra hard. And It does feel good. It's a big shirt, but I'm 5'10" so it's not clownish or anything. The sleeves go just past my fingertips.
It's perfect. The weight, the fit, the so-blue-it's-nearly-black color. It's terribly comfy. It's just right.
If Keanu were my boyfriend, I'd wear his clothes all the time when he was away.
spoony | from inside the mind of krix at November 25, 2002 06:33 PM .