Vanity is my Favorite Sin
It's been a fabulous week.
In my mailbox this evening the notice that I can pick up my vanity plates tomorrow.
and the winner is.....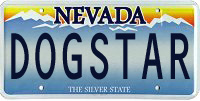 My first choice
I'm so pleased, as my neighbor-alerting squeals at the mailbox will testify to.
Now all I need is a DAMN CONCERT to drive to.

it wahs | from inside the mind of krix at April 17, 2003 05:59 PM .