From the 'you know you're an icon when...' department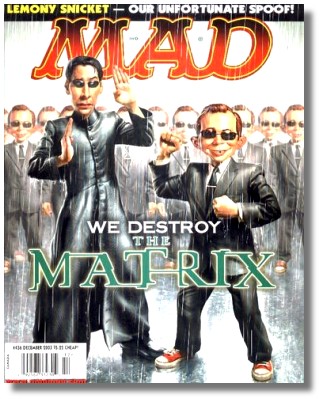 Heh.
I used to read MAD magazine. I think it's responsible for me deveolping the typically "masculine" habit of reading in the bathroom. My brother left a few of them when he moved away to college and I would have to sneak to read them because my mom really didn't think the humor was appropriate for a 9 year old girl.
And somehow reading it on the toilet seemed "appropriate".
The movie spoofs were always funny (my god, do I remember the Star Wars one? Ack! I'm old...) although I'm sure a lot of the humor went over my head at that age. I do know that I loved the Don Martin cartoons. Oh! and Spy vs. Spy. Hee!
Is this issue still on the stands? Man, it's been well over 20 years since I last read an issue of MAD. I may have to use this Matrix spoof as an excuse to spend some extra time in the bathroom again.
it wahs | from inside the mind of krix at November 21, 2003 04:19 PM .