dude!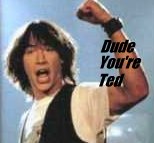 You are Ted Logan from Bill and Ted's Excellent
Adventure. Rock on Dude!


Which Keanu Reeves Character Are You?(with pictures)
brought to you by Quizilla
Heh, I hate these quiz things, but this one's on-topic...
it wahs | from inside the mind of krix at November 20, 2003 11:21 AM .