Guess what tomorrow is?
Tomorrow is keanuvision.com's 2nd birthday!
Yep, on November 9th, 2001 I finally became a dot com. I had a wallpaper site on Geocities for a while before that and technically started blogging on the old blogspot blog in September, moved to Movable Type the following May...yadda yadda, so in order to avoid confusion (and also domain expiration is a handy reminder), November 9th is the official day to celebrate.
How am I going to celebrate? By taking the day off and letting you supply the content.
From now until sometime tomorrow (let's say noonish, my time PST) I will take submissions of wallpapers, digital collages, other edits (including arty ones like the one from Shelly of Ashton-Kutcher.net below or silly ones like these magazine spoofs), drawings, poetry, lyrics/song parodies or anecdotes (as in "the funny thing my friends and I did to get a Neo standee from Blockbuster" or "The time I loaned Keanu my lighter outside the Viper room").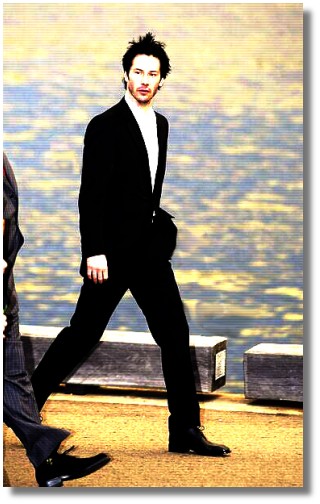 Submission guidelines below....
Send all submissions to KEANUVISIONARY@AOL.COM. Put the word "birthday" in the subject line. Please do not send to my regular email.
Sending images:



Only one image per email. AOL puts multiple images into a zip-file, and I don't want to have to download mysterious zips. If you use that incredimail thing, have stationary or images in your sig, please turn it off, because it will read as multiple images. You can submit more than one thing, but do it in separate emails.
Images MUST be in .JPG or .GIF format (preferably JPG)No BMP or TIFF or any other weird files, please. Also, please make sure the file doesn't have to be resized. It should not be bigger than my screen.
PLEASE put a signature ON the actual image, down in the corner or something. Use your name, your screen name, whatever you want but if I get a lot of these I'm just going to put them all in a web album and upload it and I'm HIGHLY disorganized and I want to make sure everyone knows who did what.
Take a little time, don't just put an "emboss" filter on a pic and send it. (Actually, don't use the "emboss" filter at all. It's an UGLY effect). Send something you're proud of.
If you have sent me something in the past, please re-send (add the sig, please) it if you still have it. Like I've said, I'm really freaking disorganized and probably still have what you sent in a folder called "stuff2sort03" somewhere, but I can't find it.
BLOGGERS! This ain't just for Keanu fans. I know you got the graphic skills to go to the spoony category, pick a pretty picture and make me a damn birthday card.

Sending poetry, etc:


Copy and Paste your submission into the body of the email, do not attach a document.
Make sure you use plain text or a simple font. Ariel/Verdana 10 or 12 point is perfect. No scripty, giant or "baby-blue on a white page", please.
If it's an original poem/lyrics, format it like this:


TITLE

Roses are red
Violets are not
I love Keanu
He makes me so hot

-by Your Name Here

If you parody lyrics, please let me know the song and artist of the original, because I live under a rock and don't know my Pink from my Evanessance.

Also since birthdays are also all about the presents, I'm going to go through my stuff and find some things to give away. For sure there will be a couple Quattro Formaggi CDs and some Bill and Ted trading cards.
If anyone has questions about submissions, leave a comment.
Please hold your birthday greetings until tomorrow.
the site | from inside the mind of krix at November 08, 2003 12:35 PM .