Let's get this party started - Deux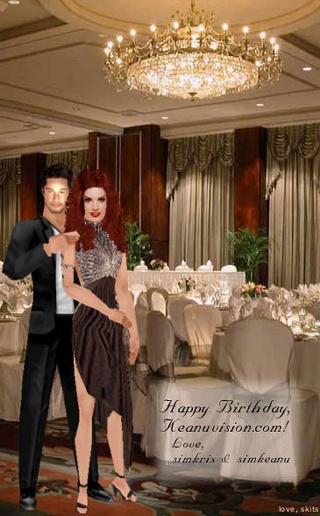 Thank you to Wendy of skittish.org for this fantastic SimKeanu and SimKrix, ready to celebrate keanuvision's 2nd birthday in style.
And I'm going to make this the official give-away entry as well.
Here's how that's going to work....
Everyone who submits something and everyone that leaves a "Happy Birthday" comment on this entry up until midnight PST tonight will have their name put into a hat* and I will draw names to give away:
2 Reloaded DVDs
2 Revolutions Soundtrack CDs
2 Dogstar Quattro Formaggi CDs
2 pairs of Keanu celebrity photographs
Show me some love :)
*smoooooch*

*On Monday at the office, I'm going to print out the names/emails of everyone and then fold them up and put them into most likely a Big Gulp cup or something since I won't have an actual hat. I will do an audblog live as I draw the names. Multiple comments do not get multiple entries, but those who send in submissions can also leave a comment for two chances to win something. You can't win twice, but your odds are better if you send me something pretty.
from you , the site | from inside the mind of krix at November 09, 2003 08:00 AM .