What's this, then?
Well, I know Keanuette is happy, she now has her own Sim and her own Keanu over at Skits' s!ms blog. Skits is creating a whole Sim neighborhood and is going to populate it with bloggers. Is anyone else really anxious to see a Sim Hoopty? I know I am.
Anyway, you can go checkout Keanuette's Sim adventure and get a sneak peak at what's happening in the SimKrix/Keanu storyline.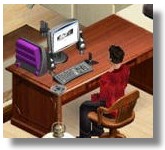 Skits is a very funny girl. It seems Sim Keanu has found the blog.
I wonder what's going to happen next?
You know, in comments just a couple posts down, I had an "omg" reaction to the thought of Keanu ever happening across this site. But really, that'd be fine. Heck, I'd be lying if I said it wouldn't be a complete thrill.
Admittedly, there are a few things that would cause me to blush if I knew that he had read them. (Hello? dressage theory, anyone?) but really, I don't post anything that I would feel weird about him reading.
Even the cracks about his hair. I imagine he can take it. Because really, it's all meant with affection. And if he can't? Dude, get over yourself.
I don't think it's very likely to happen, though. But if it does, I hope he's amused.

simulated | from inside the mind of krix at September 09, 2002 11:22 AM .