Sneaks
Thanks to angel0164 (yet another Lori) for this pic and the news that a pair of Keanu's sneakers are going to be auctioned off down in Australia to benefit a youth charity. I don't have any details, but I've emailed the contact. They haven't gotten back to me.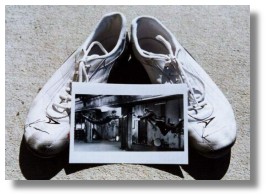 Boy's got him some big ol' feet, huh? Yeah, baby.
Anyway, speaking of Keanu footwear...
QUICK! What movies has he worn Chucks in??? I know he and Alex both did in Excellent Adventure....any others?
We've GOT to get him on this list.
(via another Golden Chuck honoree, Wil Wheaton)
Update: Success! Lori O found me a picture of Tommy in the craptacular Teenage Dream wearing his Chuck Taylors!

This Just In!-- The character Chris in Permanent Record has been spotted boarding a train wearing white Chucks.
Hot damn, I'm gonna write me a letter.

One last update: read on for the letter I just sent off with pics attached
Gentlemen,

I submit to you evidence that the actor Keanu Reeves should be added to the honorees of the Golden Chuck award.

In addition to his appearance in Chucks in 'Bill and Ted's Excellent Adventure',
Mr. Reeves' has at least two more characters that have chosen Chuck Taylors to don while making those first steps to superstardom:

Tommy, in the craptacular 1986 Olivia D'Abo vehicle- 'Flying' aka 'Dream to Believe' aka 'Teenage Dream' (the movie so bad they renamed it three times!) wore dashing red Chucks as he pined over the insipid Ms. D'Abo.
http://us.imdb.com/Title?0091065

and

Chris in 1988's 'Permanent Record', wore white canvas Chucks on the train right before the real angst kicks in....A heart-rendering tale of teen suicide and why it really sucks to be the best friend of the kid that cacks it, this movie has an ending that screams "After-school special" Yet, it's a feature film! http://us.imdb.com/Title?0095853
Thereby qualifying for your criteria, no?

I submit photographic evidence courtesy the faithful readers of my site:
www.keanuvision.com and my patented technology of taking pictures of a paused video with the digicam.

I thank you for your consideration and look forward to sending you lots of hits and business (Keanu fans love Chucks! and Videos!) on the occasion of Keanu receiving the Golden Chuck honor.

Sincerely,
krix
www.keanuvision.com
it wahs | from inside the mind of krix at September 09, 2002 02:44 PM .