for reasons unexplained she loved the monkeyman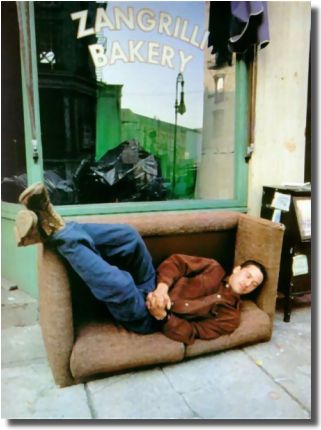 A couple of things are getting annoying when it comes to the blogging.
One is that I'm coming up on nearly two-thousand freaking entries and frankly, the clever-title well runs a little dry some days. So rather than wrack my brain, you'll be getting random lyrics from time to time. I'll try and make them tangentially relevant somehow, but no promises. Especially before I've had my morning redbull. Of course, there's always bonus secret cool points for knowing the song.
The other thing, of course, is that it's such a slow time for news. Google and Yahoo alerts have so much noise to signal I can't stand it. The ferret thing was cute, but for the most part, it's a stretch. Every weekday, I faithfully check the script sales website to see if he's got a new project announced. Or maybe an update on an old one.
I think this feeling is what the word "bupkiss" was invented for.
There certainly are some interesting films being pitched out there, though.
I'm interested to hear about the Edie Sedgwick film (wasn't Molly Ringwald going to do her bio? did that ever happen?). The Untitled Miniature Golf flick? Not so much.
Good grief. "A-Team", "Dallas" AND "Miami Vice" movies. They really are running out of ideas in Hollywood.
There are a few ideas up there that I could certainly picture Keanu in, just for fun. I'd like to see him in another comedy, although "Hip Hop Nanny" is probably not a good match. I guess I'll keep holding out for "Bill and Ted III".
I hope Keanu is enjoying this break. He certainly deserves it after his non-stop schedule for the past several years.
So the thing to do is make the most of it, I guess. I've actually gotten a lot done in this free time. Bassplaying, shredding, laundry. The fun never ends.
Go me. I even managed to not only vote early this year, but I took some time on a couple afternoons to read up on the candidates and issues before I did it. The internets make it really easy to do that you know.*wink*
Anyway, I might be a little off-topic more often these days, but if you keep reading, I'll keep blogging.
it wahs | from inside the mind of krix at October 22, 2004 11:17 AM .