Something's Gotta buzz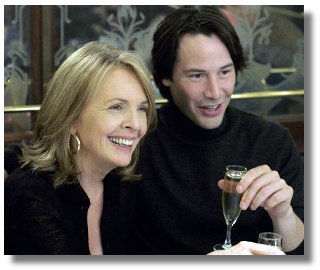 The NYPost's Liz Smith:
"WENT to see the full version of the coming Jack Nicholson/Diane Keaton comedy "Something's Gotta Give" (I'd seen a snippet a few weeks back and loved it.) Well, this Nancy Meyers' movie is going to be huge precisely because, in some respects, it mirrors Jack's real life (dating very young women) and it more than proves that middle-aged women, Diane Keaton for instance, still have "a dance in the old dame yet." (She is simply divine; no wonder Warren Beatty and Woody Allen and many another guy found - and find - her so wonderful.) I also loved Keanu Reeves in this movie - here blessedly removed from his inscrutable "Matrix" persona, which certainly doesn't tap his talents. And I wish the film had shown us more of the great Frances McDormand.

If I say "Something's Gotta Give" could use some judicious cutting near the end, that's just because I'm a fuddy-duddy who thinks most "entertainments" are too long. But this one will tickle you."
(Thanks Jane)
Also, Coming Soon has a new trailer up (choose 'B') that has some choice shots of our dream doctor. Thanks to Club-K, who already have some stills in their gallery
cinema | from inside the mind of krix at November 20, 2003 08:21 AM .