on the wall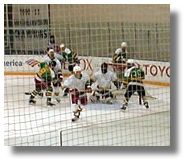 On being asked who the best Hollywood hockey player is: "I'm going to have to say Keanu Reeves as a goaltender, because he's a pretty good goalie, one of the best goalies I've ever seen. He's stacking the pads, riding across, giving you the corner and then taking it away with the glove hand. He's really quick and really good."
-- Cuba Gooding Jr. (source: Denver Post, October 19, 2003 -via keanuweb)
it wahs | from inside the mind of krix at October 20, 2003 11:30 AM .