Hunky Hockey Jock Boy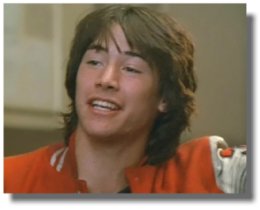 I've decided to rewatch the movies up for discussion over at the Backlot before I commence commentating, but before that I really am going to have to watch Youngblood.
I've had it for months, but just never watched it.
However, the series of captures from the DVD that Elsinore has sent out over the past few days have whet my appetite for some studmuffin-on-ice.
I don't know why I haven't gotten around to watching this yet, especially with my love of hockey. I guess I'll chalk it up to the Rob Lowe factor. Ugh.
BUT, I suffered though the retchfest that is Babes in Toyland so this should be completely bearable.
*Update 7:30 pm:*
OK, I watched it.
What up with Keanu disappearing halfway through?
I'll bet that smarmy Swayze had something to do with it.

"That cute canuck in the crease is distracting everyone from my rugged ambition and toned abs! Off with his head! What? You can't do that? Well, then change the lock on his trailer and tell him filming's over! Fear the mullet!
And fetch me a Perrier!"
Aw, Patrick....I kid. Really.
Actually the movie wasn't that bad, I'd sit through worse just to see Keanu do that cute hop on his knees during the drills a little longer.
And more closely.
.....and on my bed.

spoony | from inside the mind of krix at June 17, 2002 12:19 PM .