She SCORES!
SCORE (Spinal Cord Opportunities for Rehabilitation Endowment) has its roots in hockey. The organization was founded in March 1999, when Sean Gjos was injured while playing for the UCLA club ice hockey team. In response to his injury, Sean's friends created SCORE to assist Sean and others like him who suffered spinal cord injuries.
SCORE fills a unique space in the spinal cord injury community by focusing its grants and activities on young athletes who incur a spinal cord injury while participating in sports and by funding emerging researchers involved with innovative studies in the search for a cure for paralysis.
Learn more about SCORE at www.scorefund.org
SCORE may not realize it, but on top of helping these injured atheletes and funding research, they are making one of my dreams come true....
Watching Keanu Reeves play hockey.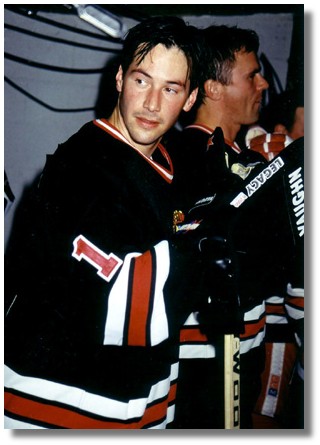 NHL vs. Hollywood
SCORE's
3rd Annual Celebrity Hockey Game
Sunday, August 17, 2003
4:30 - 7:30 pm
Health South Arena, El Segundo
Paulie Kosta, guitarist for becky is also playing and it's actually thanks to him that I know about this event. When I saw the news in my email as I checked it at Wendy's, I may have squealed. I know I bounced into the kitchen and informed her that she was going with me (and what the hell- bring the hubby and kid along, too). I knew she'd be into it...look at the line up.
Anyway, so yes, I'm pretty excited about going. To be able to see him on the ice has been a wish of mine, and one that I figured wouldn't happen. No, I didn't get the VIP tickets (which are now sold out) so I won't be rubbing elbows with Luc, Lex and Angel (nor Keanu and Paulie). I'm hoping that Fran will be willing to take some good photos with his nice camera. I'll get what pictures I can manage. I am sorry to say that I don't have a video camera so I won't be getting any footage of the game, but I'm sure if it's allowed someone will.
So, is anyone else in the area going?
becky , it wahs , spoony | from inside the mind of krix at August 06, 2003 12:54 PM .