digitus infamis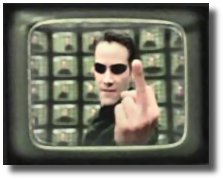 The finger, known variously as the one-finger salute, the highway salute, flipping (someone) off, flipping the bird or the Trudeau salute (in Canada). It is a hand gesture made by extending the middle finger of the hand while bending the other fingers at the second knuckle. It has an offensive meaning in some cultures, comparable to "fuck you".

The origins of this gesture is highly speculative. It is identified as the "impudent finger" in Ancient Roman writings. It was defined there as a gesture intended to insult another. It has been noted that the gesture resembles an erect penis. Ancient Romans considered an image of an erect phallus as a talisman against evil spells. As a consequence, displaying this gesture to another may not have been a pseudo-sexual insult but rather a insulting statement along the lines of – "I'm going to protect myself against your witchcraft, before you even start."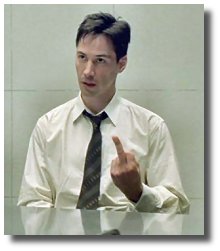 The "one-finger salute," or at any rate sexual gestures involving the middle finger, are thousands of years old. In Gestures: Their Origins and Distribution, Desmond Morris and colleagues note that the digitus infamis or digitus impudicus (infamous or indecent finger) is mentioned several times in the literature of ancient Rome. Turning to our vast classical library, we quickly turn up three references. Two are from the epigrammatist Martial: "Laugh loudly, Sextillus, when someone calls you a queen and put your middle finger out."

In the other reference Martial writes that a certain party "points a finger, an indecent one, at" some other people. The historian Suetonius, writing about Augustus Caesar, says the emperor "expelled [the entertainer] Pylades . . . because when a spectator started to hiss, he called the attention of the whole audience to him with an obscene movement of his middle finger." Morris also claims that the mad emperor Caligula, as an insult, would extend his middle finger for supplicants to kiss.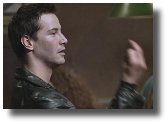 It's not known whether one displayed the digitus infamis in the same manner that we (well, you) flip the bird today. In another of his books Morris describes a variety of sexual insults involving the middle finger, such as the "middle-finger down prod," the "middle-finger erect," etc., all of which are different from the classic middle-finger jerk.
The widely held claim that the 'middle finger salute' is derived from the defiant gestures of English archers whose fingers had been severed by the French at the Battle of Agincourt is most likely a myth.
See also: The V-sign & The Shocker.
it wahs | from inside the mind of krix at October 05, 2004 11:05 AM .