I think about him while I Rasterbate
Here's what happens when I'm bored and done huffing permanent markers left to make my own fun on a Friday afternoon.
Behold, The Rasterbator.
The Rasterbator allows you to upload and enlarge an image and then spits out a spiffy printable PDF file that you can piece together for a wall-sized, ceiling-sized or even larger final image.
You can only guess where this is going, right?
First I figured out what would make a good rasterbatory material.
Why, my Fierce leatherboy sidebar mascot of course!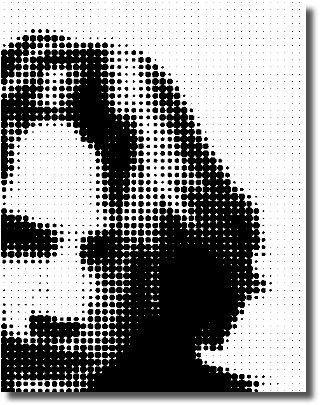 I decided to size the image to fill 3 pages across by 7 pages high (US letter size 8.5"x11"). I could have sized it a bit smaller because the final result uses less than 50% of the third row but I kind of wanted it *cough* actual size. Looking at the detail of the page it's hard to tell how it will come out. Luckily, I have a serious B&W hardcore printer at the office so I decided go ahead and print this baby out (click to see the result and my ugly office carpet).
A quick trip to my brother's art studio to use the nice straight-edge cutter and some careful tape work and *whee*...lifesize Keanu. Now I just have to decide where to put him.
Of course just like they warned you in Sunday School, once you start rasterbating, you can't stop.
Here's a screenshot of my second project. The highlighted lippy part is shown in the detail below.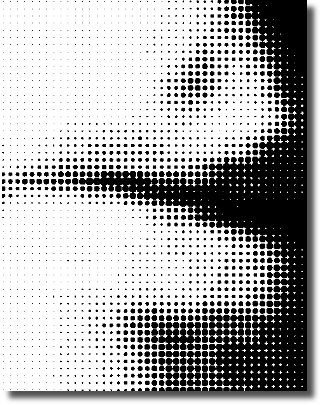 I wanted to be sure to get some good details so I made this one 8 pages high by 8 wide. It was only after I downloaded it that I realized that this is going to produce a rasterbation over 7 feet high. Pretty much floor to ceiling. Zoiks.
I haven't actually printed this one out yet.
So if you're not doing anything this weekend and have plenty of ink (or you can burn the files to a disc and take it to Kinko's, black and white shouldn't cost too much) why not indulge in a little toner abuse?
Clicking on the detail pics above will download the PDF's I made or you can make your own.
Check out the gallery for ideas and a look at how different page counts will turn out and if you go here, there are some good tips as well.
Happy Rasterbating! I promise you won't go blind!
it wahs | from inside the mind of krix at September 17, 2004 05:13 PM .