through it, darkly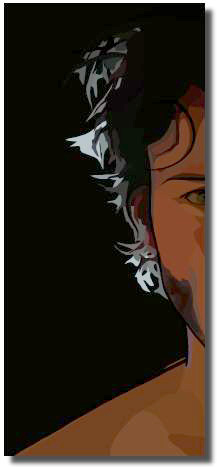 Nudel found this great image that teases us with another look at Keanu as Bob Arctor for A Scanner Darkly at the Flat Black Films site.
Have I mentioned how fucking incredible I think this film is going to be?
I finally finished reading A Scanner Darkly this weekend, and now I want to read it again. It shouldn't have taken me so long, but the only time I read is right before I go to sleep and lately I've been only able to read a page or three and I'm out.
One part toward the end that really struck me was a part about reflections and mirrors and photographs and opposite images.
Because, he thought glumly as he watched the police psychologists writing their conclusions and signing them, we are fucking backward right now, I guess, every one of us; everyone and every damn thing, and distance, and even time. But how long, he thought, when a print is being made, a contact print, when the photographer discovers he's got the negative reversed, how long does it take to flip it? To reverse it again so it's like it's supposed to be?

A fraction of a second.

I understand, he thought, what that passage in the Bible means, Through a glass darkly. But my percept system is as fucked up as ever. Like they say. I understand but am helpless to help myself.

Maybe, he thought, since I see both ways at once, correctly and reversed, I'm the first person in human history to have it flipped and not-flipped simultaneously, and so get a glimpse of what it'll be when it's right. Although I've got the other as well, the regular. And which is which?

Which is reversed and which is not?

When do I see a photograph, when a reflection?

Negative reversed.
Isn't that a positive?
Aside from the headtrippy philosophy of the whole thing which is a whole 'nuther blog entry that I don't have the focus to do today, it got me to thinking about Keanu himself, and all the photographs we see of him. How what we see is different from what he sees in the mirror every day. Granted, I'm sure he sees plenty of pictures of himself, he is one of the most photographed men in the world, and I don't think he spends a whole lot of time in the mirror, but you know what I mean.
As a fan and someone who sees his face in photographs nearly every day, I can usually spot when a negative has been reversed. It used to bother me. I had a great large print of the image from Point Break of him in the rain looking over his shoulder that my brother framed for me. Once I realized it was a reversed image it actually bothered me enough that I took it out of the frame and replaced it with something else.
Yesterday, after reading the above passage more than once, I looked at some photos of him that had been mirrored. They still look "off" to me, but when I look at them with a different frame of mind now, it's.....still weird, but different.
And then I got all thinky and spent about 25 minutes looking in my own mirror.
Anyway, I'm rambling because I not only have a really scary dentist appointment today (longtime readers know about my dental anxiety) but we have a freaking gig tonight. Gah.
Go read Nudel's blog entry.
darkly | from inside the mind of krix at September 19, 2004 10:51 PM .