DVDeevishness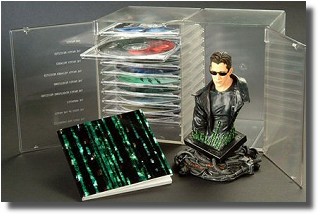 Well, the good news is you can get your super special Matrix Trilogy 10 DVD set in a special box with Neo de Milo and a cute little book this Christmas. The bad news is that the Keanu commentary previously reported? Not gonna happen. Feh. According to the report at thedigitalbits.com (via keanuweb):

There will be two audio commentaries for each film - one from philosophers Ken Wilber and Cornel West (who analyze the meanings behind the films), and one from three professional critics who hated all three films (no names given). According to Andy Wachowski, "It's the best idea we've ever had. It's hilarious. They just sit there and rip the shit out of us for six hours."
Hee! That is hilarious. I can't wait.
Also in DVD news, Mayor of the Sunset Strip was released on Tuesday. Yes, it's true that Keanu is only in it for the 2 seconds, as seen in the trailer, but if you have an interest in music and the LA scene it's definitely worth the rental.
Wait, there's more. The sucktacular Even Cowgirls Get the Blues will be out on DVD in November according to DVDanswers.com(via keanua-z). I have it on video from my "must have everything" completist phase a couple years ago. It's bad. Really bad. Recommended to rent ONLY if you've never seen Keanu as the asthmatic Julian Gitche AND you have a coupon or something.
cinema , red pill | from inside the mind of krix at August 20, 2004 11:09 AM .