clever title vs. spacefiller
As if we needed more proof that Hollywood is completely out of ideas, last night I saw an ad for Alien vs. Predator .
OK, I know a trend when I see it, and since Keanu doesn't seem to have too much lined up at the moment, I'm thinking maybe I could pitch a few ideas that might get him some work.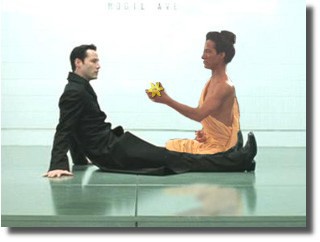 Neo vs. Siddhartha

Just coming up with a plotline for this is a bit of zen in itself. One thing for sure is that the final product will inevitably be called "too talky" by a bunch of idiot critics.

Conor makes a big bet against The Sentinels and calls in a favor to his ol' buddy Shane to, um.....drop the ball. Shane refuses and Conor decides to kidnap him and take his place at the 50-yard line. Hilarity ensues.

Donnie Barksdale vs. David Allen Griffin

Tagline: "Hey! Time to Pick on Someone Your Own Size!"

Excellent Adventure Ted vs. Bogus Journey Ted

In a climactic scene rivaling Zoolander's "Walk Off", the Teds have a "Battle of the Air Guitars". Fingers fly as the contest goes on much longer than you could possibly imagine, ending only when Tod accidentally runs them both over with his dragster.

This one's still in the concept stage. I'm trying to figure out how to keep them both shirtless for the duration of the film.

it wahs | from inside the mind of krix at August 09, 2004 11:33 AM .