in your dreams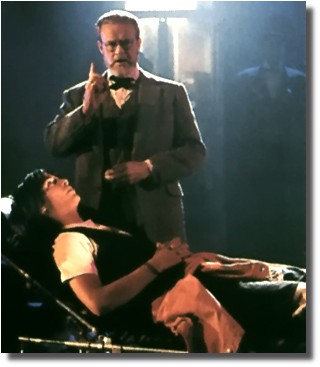 I think it must be because I'm filled with anxiety about playing Oblivious live tomorrow night, but I had a crazy dream about opening for becky. Unfortunately, DreamKeanu didn't show up to give me tips on the solo.
Have I ever mentioned that this whole Keanu thing started with a dream? I mean, I've always enjoyed Keanu's work. If it was a choice between 3 or 4 movies that looked good on a Saturday night, I'd pick the one that had Keanu Reeves in it, but that was about it. The internet changes fandom just by the ease of information flow. I'd never heard of Dogstar before I started surfing Keanu websites, didn't know his birthday, etc. Eventually, the more I learned about him in my waking hours the more I realized that he was fascinating and someone I could both admire and respect.
Ah, but we're talking about dreams here.
Anyway, the very first night I did a search on Keanu, I was up very late browsing pictures and reading tidbits. When I finally fell asleep I had one of the most vivid dreams I'd ever had. I hadn't seen The Matrix yet, but he had on the long coat (which I'm sure was influenced by the pictures I'd saved onto my drive that night) and was leading me through a typical Tim Burton-esque dreamscape (lots of angular staircases, extreme proprtioned doorways, etc) and every once in a while he would have to fight something off while I crouched by his feet. I remember still that he would reach down and touch my head as he was fending off whatever it was that was menacing us, then he would grab my hand and pull me to run some more. I remember being able to smell him in the dream, and the only way to describe it is that he smelled like power. The dream stuck with me the whole next day. I would be driving and my thoughts would drift into replaying it, trying to figure it out.
Now, I don't really assign anything mystical to it. I don't think he came to me in my dreams or anything. I don't think I believe in that. I do think that something about him triggered something in my subconciousness, and just like a tiny chemical Joel Silver, the little producer in my greymatter saw potential and said "This. This man-symbol, this splendiferous icon has got IT. She'll pay attention to the message if I put it in this envelope."
And since then, I know that some of my dreams of him are my brain working out things that I really need to pay attention to. Of course, some of them are my subcon just giving me a little treat as well (frankly, it still owes me for a "Gene Wilder in a bathtub" thing that took a week to recover from).
The last Keanu dream I had was that I was his assistant, and he was really clingy. Like, I would get up and try and walk away and he would grab me by my shirt and pull me back down to sit next to him. Interpret that however you will. I took it as a sign that I should work through my latest bout of writer's block and continue with this website.
Anyway, today needs to be all about the practicing for me because I don't need to dream about being naked onstage with a bass made of ice again, so I'm inviting you to share your dreams. They don't even have to be Keanu ones.
it wahs | from inside the mind of krix at August 10, 2004 11:30 AM .