Dick Trust hearts Darkly Adaptation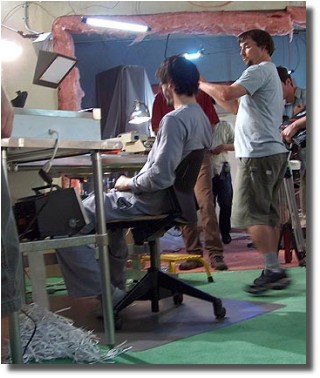 PhilipKDick.com and the Philip K. Dick Trust have a page regarding the film adaptation of A Scanner Darkly.
A Scanner Darkly is one of our father's most personal stories because much of it is based on his own experiences. For this reason, it was especially important to us that it be done with all of the right intentions. His struggle with drug abuse is well documented, and he (and we) have witnessed many casualties. The novel is filled with his humor and his own tragedies. And we believe that Richard's screenplay manages to capture these key elements -- he has even included our father's poignant afterword in his adaptation.

After agreeing that this project was the right way to go, we were delighted to hear that this group of gifted actors would be playing the characters: Keanu Reeves as Arctor, Winona Ryder as Donna, Robert Downey Jr. as Barris, Woody Harrelson as Luckman, and Rory Cochrane as Freck. We think each person brings a unique quality and passion to the project. Laura and I visited the set during filming and had a chance to speak with the actors about some of the more personal aspects of this story. Without exception, every person we spoke to -- actors, producers, and crew was entirely gracious and enthusiastic about the work of Philip K. Dick. They have welcomed our input, and made us feel a part of this project.
Go here to read the whole message from Laura and Isa and for more photos from the set.
I'm so happy that the production has their support and I'm even more excited about Keanu's involvement in this film. It's gonna be huge.
Oh and boo-yah! I so called Downey as Barris! Ooooh, all my casting predictions were on.
-Thanks to Marg for passing this info on.
-Orig. source, MC @ the RDMB

darkly | from inside the mind of krix at June 13, 2004 04:19 PM .