Golden Gate memories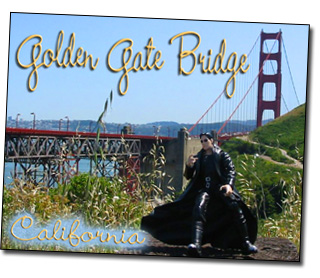 Well, it was Keanuette who saved Wee Neo and graciously brought him along on her travels last month since he wanted to be in familiar territory after his...confinement.
Read on as she tells of their romantic sight-seeing at San Francisco's Golden Gate Bridge...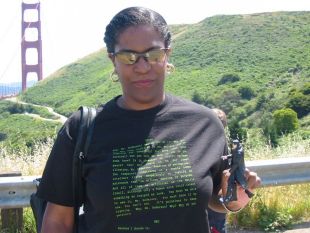 "Ok, we weren't exactly *in* Frisco, but we were near it - on the Golden Gate Bridge to be exact. It was a gloriously sunny day and I was afraid that Neo might have started melting, but I had nothing to fear, because, as we all know, he is The One.

Neo wanted to show me his old hunting ground, where he filmed The Matrix Reloaded and I thought 'yeah, I'll come along' thinking it would be just a casual jaunt. I'd never been to the Golden Gate Bridge before. It really is a magnificent structure.

Little did I know that Neo had other things on his mind..."
"Neo liked the Matrix t-shirt I was wearing and said that the Super Burly Brawl was some of his favourite scene that he shot during the making of Revolutions."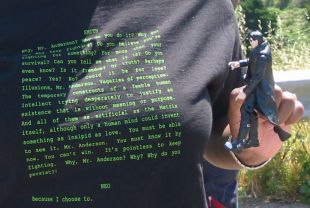 "He asked whether he could read it, so I let him. But I think he was more interested in my boobs because he kept skipping bits of dialogue all the time..."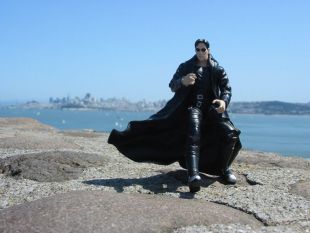 "Here's Neo with San Francisco in the background. It was used an the backdrop to the freeway chase scenes in Reloaded. He was pissed that he wasn't allowed to show his prowess on a motorcyle (they chose Trin instead), coz you know he's been to Freddie Spencer's High Performance Riding School an all. I told him he could fricken fly at 2000 mph, for crying out loud and doesn't need a motorbike."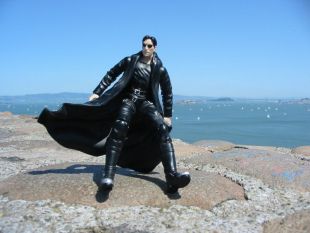 "And here's Neo with Alameda in the background. 'What a dump' he said. And people kept trying to crash the set (much to his annoyance) and a certain young lady (Spuddie) even got her hubby to fly over the set and got exclusive filming pix."

"Then he showed me the Navy Memorial and Lone Sailor Statue that's near the 'Roundhouse'.



"The founders of the Navy Memorial envisioned this Lone Sailor at 25 years old at most, a senior second class petty officer who is fast becoming a seagoing veteran. He has done it all -- fired his weapons in a dozen wars, weighed anchor from a thousand ports, tracked supplies, doused fires, repelled boarders, typed in quadruplicate and mess-cooked, too. He has made liberty call in great cities and tiny villages, where he played tourist, ambassador, missionary to the poor, adventurer, souvenir shopper and friend to new lands. His shipmates remember him with pride and tell their grandchildren stories, some of which, like him, are seven feet tall."

"Neo had a real empathy for what he's gone through (because he himself is the saviour of mankind) and could totally relate."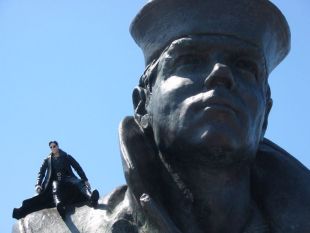 "I had to make a pit stop (to powder my nose) Neo waited patiently for me."

(do you know, I don't even remember taking this picture...must've been one of Spud's boys)

"When I finished taking all the scenic pix I wanted, he said. 'C'mon, lets go the the bridge'."

"I was a little apprehensive at first (because the bridge is hella high up off the ground and Nettie doesn't like heights), but Neo reassured me that everything would be ok - he's got my back, so I was happy to walk on it."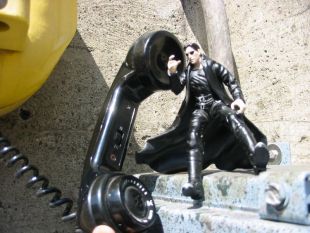 "Neo showed me where he jacked into the Matrix, which I though was very hand indeed considering he actually LIVED on the Golden Gate bridge. That was the big surprise. I was amazed."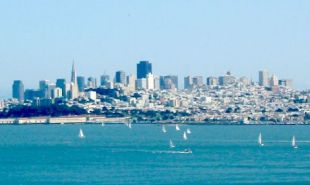 "The view from the bridge was breathtaking and as soon as we were over the water, there was a cool breeze, which wafted over me. It was heavenly."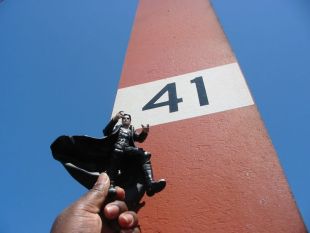 "Level 41. 'Know it well' Neo said. That did make me laugh."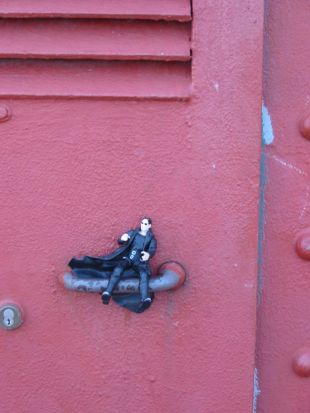 "This is where Neo lived whilst making Reloaded because it reminded him of Zion."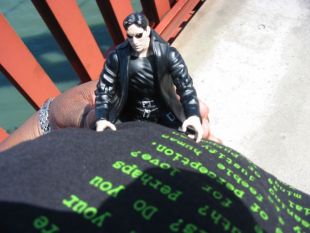 "Then I said I was starting to feel a little cold and he hugged me (well he hugged my boob - he has a facination with boobage I'm telling you! )"[ed. note -"Dude! He just got out of prison, what did you expect?"]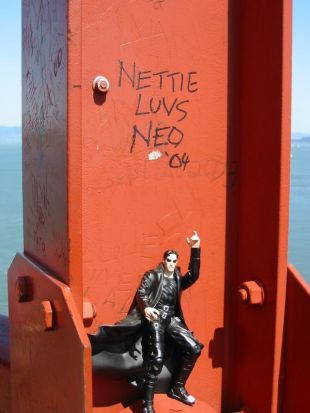 "By this time, I was warming up and I decided I had to leave a momento of our visit."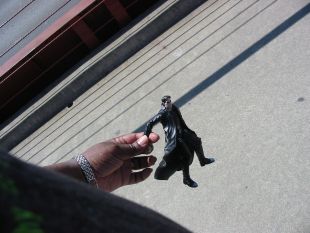 "And we held hands as we walked back to where Spuddie was waiting."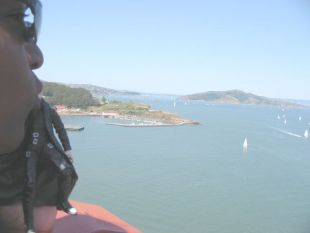 "We paused to have one last, lingering look at the fantastic scenery."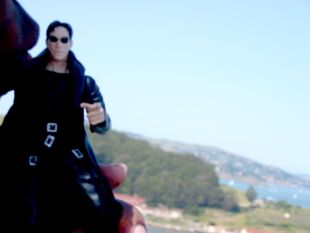 "And I threw caution to the wind and gave him a peck on the cheek. Neo, I must say, you sure do know how to show a girl a good time."
Thanks for taking such great care of Wee Neo, Keanuette and Spuddie!
Hopefully he won't get into any trouble on the way to his next destination.

neotour | from inside the mind of krix at May 11, 2004 03:53 PM .