Where in the world is Neo?
Wee Neo has had a bit of wanderlust ever since we returned from Seattle, so rather than listen to him bitch all the time about how I never take him anywhere ("dude, I've got a job. And like....cats and stuff, I can't be jetting around the globe on your whim.") I packed his bags, gave him some pocket money and sent him out into the world. Naturally, the first place he wanted to go was to visit Julie!. I'm so jealous.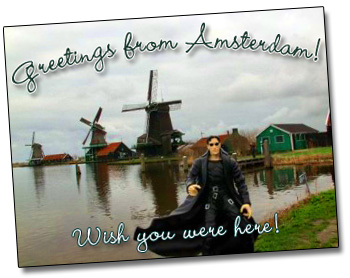 Being a man of swift action, the first thing Neo realised upon arriving in Holland was that he needed to have some form of transportation. So, he quickly charmed Julie!'s cat Foodsnatcher into give him piggyback rides wherever he needed to go.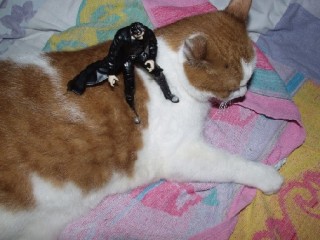 Then, he also decided that he needed some pictures to send home, so he could have a record of his trip to share with everyone at keanuvision. For this, he enlisted the services of Personal Assistants: Julie! and the beautiful Annabelle, who agreed to take some promotional pictures for him. Being a professional, he also demanded that they carried his bags...
First stop? The Zaanse Schans, an old Dutch village just below Amsterdam.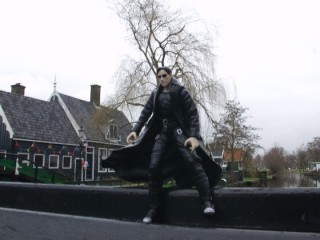 Neo was pleased to find out that in honor of his visit, the inhibitants had decorated their houses with some festive balloons.
Then, Neo was forced to visit the Wooden Shoes Museum, in order to witness how clogs are made.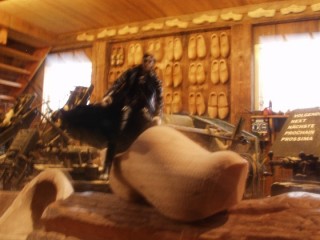 Frankly, it bored him silly. Using one of his trademark jumps, he quickly got away. Soon after however, Neo realised that there are some advantages to wearing really sturdy shoes. For instance, you can kick butt a lot harder.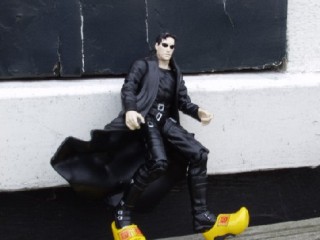 And he had to admit to himself that he just looked damned fine in them.
Neo really enjoyed seeing the Dutch windmills up close, and especially liked the way the wind from the mills made his coat flap about.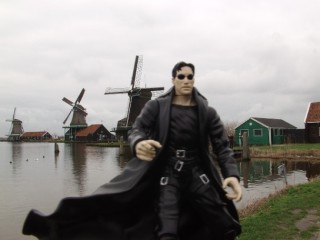 After this, he announced that he was ready to see the city of Amsterdam.
First, Neo graciously posed in front of the National Monument on Dam-square, placed opposite of the royal family's palace. One of the great mysteries that puzzles the Dutch people is if our Queen has ever noticed that whenever she's looking out of the window, she's actually staring at a giant penis-shape.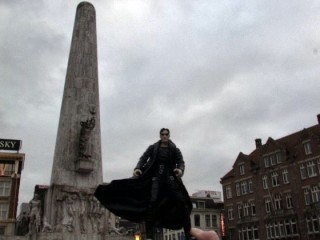 Formal gatherings and state-visits are being held in front of this thing, too.
And after seeing Neo's tolorant reaction towards SOME Dutch oddities, Julie! and Annabelle decided that it was time to show Neo the REAL Amsterdam, and entered the Red Light district....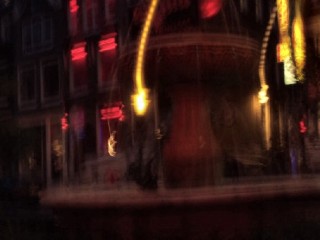 So, this is what it looks like! This picture was moved on purpose, to prevent recognition of the girls and to keep innocent visitors of this blog from freaking out.
To give a general idea: Prostitution is legal in Holland, and in this district, the girls are sitting behind windows, rather then having to walk on the street to pick up customers. This is a much safer way for them to work.
There are about 400 girls working in this particular spot, but there's 'districts' all over the country.
As far as the picture goes: The red stripes are the 'red lights', placed above and beneath the windows. If you look at the lowest red light in the right left-bottom corner, you can see an outline of a girl wearing white lingerie.
Neo complained bitterly about this…
Apperently he seems to prefer black rubber.
After looking at all these near-naked ladies, Neo needed to cool off a bit, so he took a dive into the Casa Rosso fountain.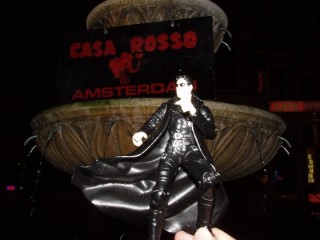 After this, he happily posed in front of a growing crowd of Japanese tourists. Special thanks go to the bouncers of this sex-club, for allowing Julie! and Annabelle to take pictures. You're much nicer then the bouncers of the 'banana-bar' across the street!!!! Greedy bastards!
Then, it was time for Neo to visit one of the girls himself. Mumbling something about 'research' and 'curiosity', he finally found a girl who agreed to pose with him, on the condition that she could wear a wig to be a bit less 'recognisable' (Thanx Mandy!!!) However, she refused to go any further, no matter how much he paid.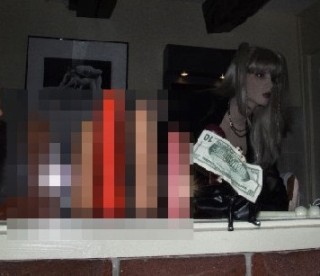 (for a non-pixelated, X-rated version of this photo, click here)
When he asked her why, she vaguely nodded in the direction of her toys, designed to make the customers pay even more if they wish to see her performing certain actions with them. She snickered a little, too.
Mortally insulted, Neo complained bitterly that 'size' shouldn't matter, and fumed that he'd rather spend his 10 dollars somewhere else.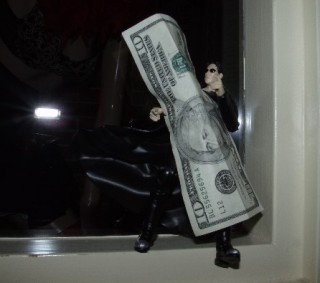 After this rather embarrassing rejection, Neo decided to calm down by trying another Dutch speciality.
He headed straight for the Bulldog-coffeeshop, one of Holland's most famous legal hash-selling points.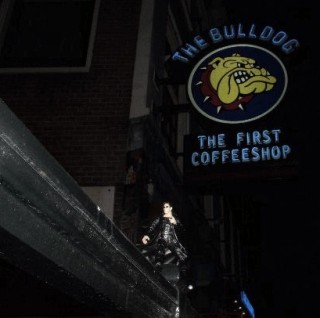 First, Neo inspected the product. Whoa!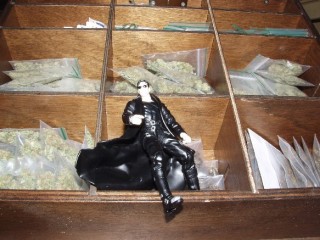 Then, he thanked the cute guy who's name shall be witheld, for allowing him & 2 giggling girlies to go backstage and photograph his 'stash'.
After making his purchase, he checked the price-list one more time, to make sure he wasn't ripped off.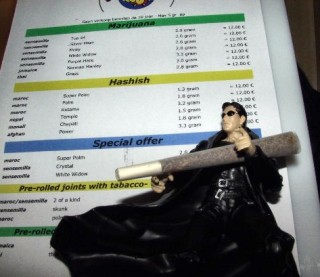 About 10 minutes later, Neo realised that the Amsterdam-weed might have been a TAD stronger then the expected.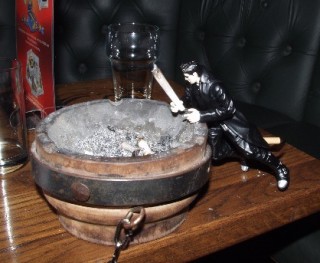 About 20 minutes later, he was so high that he basically didn't realise ANYTHING anymore.
About 30 minutes later, Neo had a TERRIBLE craving for candy.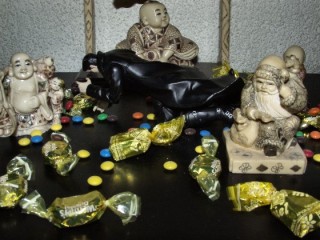 He also found himself surrounded by strange creatures. He had no idea who or what the hell they were, but found them hysterically funny nevertheless, and laughed so hard he actually fell down from it.
The next day, Neo planned on taking one of Amsterdam's famous canal cruises.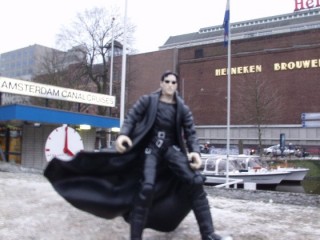 However, he decided against it because the whole situation reminded him too much of the script for Speed 2.
This picture is a little shakey, because… Well… The night before was a little rough *cough*....
Next stop: The Heineken Brewery!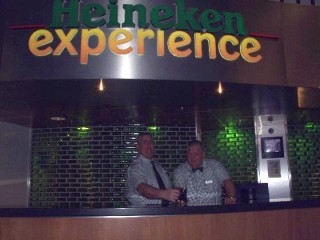 Neo personally thanked the Heineken staff for being an intregal part of the massive marketing blitz that surrounded The Matrix sequels.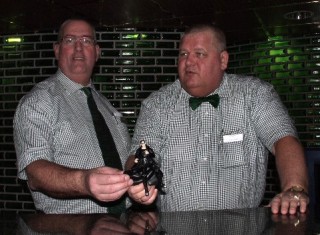 Johan & Henk were thrilled to pose with Neo himself, and had all sorts of good advise on how to deal with banging headaches. After inspecting the rest of the brewery, Neo dragged himself back to Julie!'s flat for some much needed rest.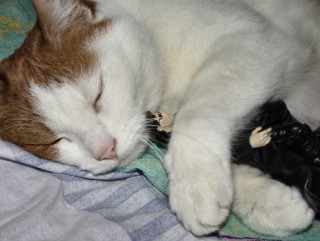 And snuggling.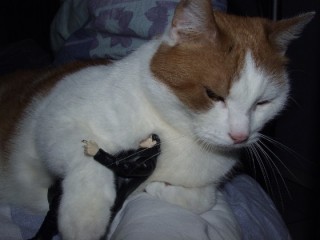 Looks like Neo had an amazing Amsterdam adventure!
Sigh, I need to get out more.
BIG LOVE and thanks and kisses to Julie! for showing Neo such a good time and for telling the tale of his adventures!!!
And now, Neo's off to his next stop on the tour!
Do you live in an exotic or interesting locale? Do you have a digital camera?
Do you want Neo to visit you? Email me to see if we can fit you in his itinerary!
neotour | from inside the mind of krix at February 26, 2004 03:08 PM .