Wee Neo's Seattle Adventure
Whee! Seattle rawked. I LOVE Eric and had the best time.
I'm going to have major vivace withdrawals tomorrow. We did SO MUCH!
Neo had fun too.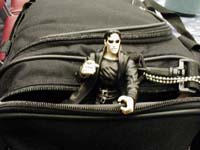 He kept me distracted doing DeNiro impressions ("You talkin' to me?") while I waited for the plane.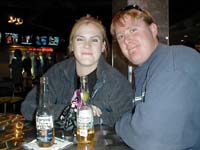 Neo also was happy to pose with random strangers (Hi Shelly and Nick!) in the airport bar. You'll notice they were smart and did not get the fifteen dollar cocktail (Which was good, but the buzz calming attributes did not last the flight).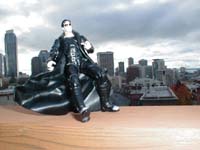 Eric lives in this great loft apartment with roof access. Neo re-enacted the original rooftop scene. Of course, Wee Neo is...well, wee, so I declined to dangle from a rope and let him pull me back up; Lovely view of downtown, though.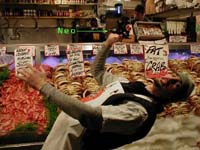 We went to Pike Place. The Real World Seattle (Rebecca's season) house was nearby, but we didn't bother to go there.
The guy at Pike Place Fish was happy to pose with The One. He even showed us how to dodge fish.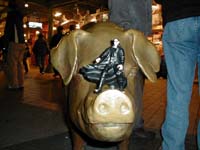 I have no idea whose ass that is, but here's Neo on the snout of the famous Pike Place pig.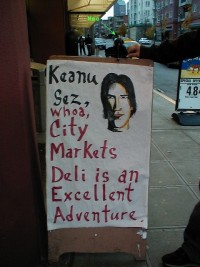 Hee. How funny is this? It's like they knew I was coming to town. How could I not shop there?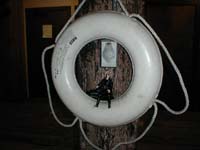 We went to the marina at night. The place was deserted and kind of spooky. I half expected the body of David Allen Griffin to pop out of the water at any moment.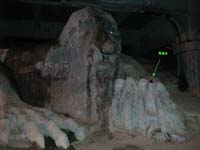 We also saw the famous Fremont Troll. He's the opposite of wee. Neo was unafraid.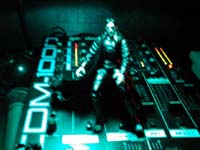 Late night, MC One busts a move in the DJ booth of the Club. Shake it like a polaroid baby.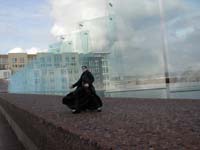 More sightseeing, we went to the Tacoma Museum of Glass, which was sort of dull except for the glass blowing demo. I kept Neo in my bag for that, for fear he'd think the glory hole was The Source. We did cross the Chihuly Bridge of Glass, which isn't actually made of glass but is pretty nonetheless.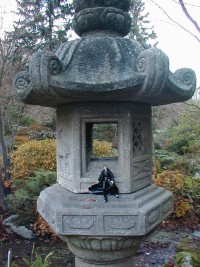 Too bad Dojo didn't come. The Seattle Japanese Garden was lovely.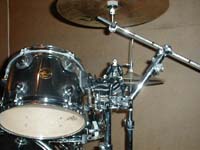 Rawk! Neo was too wee to play the drums at Eric's rehearsal space. We did do something there, though....but that's a suprise for later.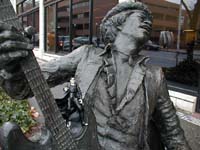 Neo hung with Jimi on Broadway.
Speaking of Jimi, we also went to EMP, the Experience Music Project and saw all kinds of Seattle music memorabilia including handritten lyrics by Hendrix and Kurt Cobain. We also drove by the house Ann and Nancy Wilson grew up in and by Kurt's house on the way to the Japanese Garden. That was a little creepy.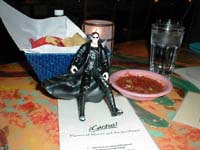 We ate out nearly every night, and the food was amazing. Last night, Neo enjoyed some chips and salsa at íCactus!
If you ever go there, have the cowgirl brownie for dessert. It's orgasmic.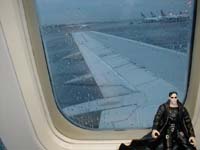 Getting up at 6am to be at the airport this morning was NO FUN AT ALL.
And we were both very sad to leave.
Wee Neo travels well, though. I need to be a bit bolder about getting people to pose with him, I think. Which means I need to take more trips!
But it's good to be home for now.
it wahs , neotour | from inside the mind of krix at December 02, 2003 05:56 PM .