love and rockets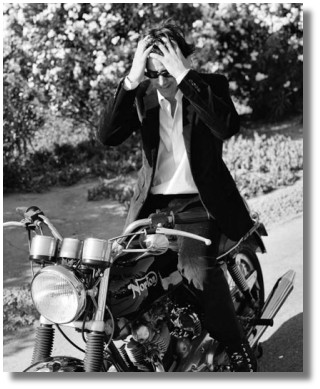 Keanu's eyes shine. "I had this girlfriend," he begins. "This girl was just the most rockin' girl in the world you could have on the back of a bike because she was fuckin' fearless. One night, it was like 12:30, at the time I was practicing doing wheelies, and she said, 'let's go!' So we went on the freeway and it was just magic. She would grab me - she had these really great breasts and really long hair - and we had no helmets and no goggles and we were going like a hundred and thirty miles an hour on five lanes of freeway, with not a soul in sight. And this incredible cloudless moon just hangin' there." He sighs happily. "I've had some of the best times of my life on a motorcycle."
-Details Magazine, February 1989

it wahs | from inside the mind of krix at February 05, 2004 03:59 PM .